Hawaii eyes gay ceremonies after civil unions pass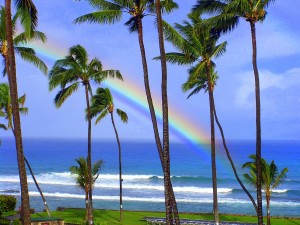 HONOLULU – For years, the Rev. Fay Hovey has held romantic ceremonies on the sand for gay partners who want to pledge their love in Hawaii. The couples take photos and memories with them, but they lack a legal and binding recognition of their relationship.
That will change when same-sex civil unions soon become law in the Rainbow State.
"They have that fantasy just like any other couple, to come and have a wedding and a honeymoon," said Hovey, of Aloha Maui Gay Weddings, who hopes for an increase in commitment ceremonies. "When they come to Hawaii, everybody can relax in their spirits and feel included."
Hawaii lawmakers gave final approval to civil unions Wednesday and sent the legislation to Democratic Gov. Neil Abercrombie, who plans to sign it into law within 10 business days. Civil unions would begin Jan. 1, 2012, making the state the seventh in the nation to grant virtually the same rights of marriage to same-sex couples without authorizing marriage itself.
The culturally diverse islands — with their swaying palm trees, picturesque sunsets and wind-swept sands — are already a welcoming place for gay tourists, including some who seek informal partnership ceremonies.
With civil unions, those ceremonies would come with a certificate that's valid in other states with civil unions or same-sex marriage, depending on their local laws. Five states and the District of Columbia permit same-sex marriage.
Hawaii, known as one of the nation's premier locations for destination weddings and honeymoons, also will allow gay couples to get civil unions even if they don't come from states with compatible laws. This could provide a boost to the tourism-dependent islands that are trying to recover from the recession.
"It will certainly drive more tourism and bring more people to us," said Michael Waddell, general manager for the Maui Sunseeker, a resort catering to gay clientele. "They come here because they can be comfortable and they can be themselves."
The Maui Sunseeker is expanding from 17 to 30 rooms by the end of the year, which will help it accommodate new visitors, he said.
Honeymoons and marriages made up nearly one-tenth of Hawaii vacations last year, with more than 600,000 tourists traveling for that reason out of a total of about 7 million annual visitors, according to preliminary state government statistics.
"We don't discriminate. We're known for having tolerance and mutual respect for all," said Mike McCartney, president for the Hawaii Tourism Authority. "Our natural beauty, people and spirit create and environment for romance."
But the number of couples seeking civil unions may be somewhat modest, according to one study. Between 569 and 1,285 same-sex couples will enter civil unions in the first four years that registration is available, the Williams Institute on Sexual Orientation Law and Public Policy at UCLA estimated last June.
"A traditional wedding would tend to be marriage. The untraditional wedding would tend to be on the beach in paradise. That's one of the strong advantages of Hawaii," said the Rev. Mike John Hough of Kauai Island Weddings, who expects the number of ceremonies he performs to increase between 10 percent and 20 percent.
When the Hawaii Senate voted 18-5 to pass civil unions Wednesday, it sought to end nearly 20 years of thousands-strong rallies, election battles and passionate public testimony that have divided the Rainbow State.
Voters overwhelming passed the nation's first "defense of marriage" constitutional amendment in 1998 in response to a state Supreme Court decision five years earlier that nearly made Hawaii the first state to legalize gay marriage.
The amendment resulted in a law banning gay marriage in Hawaii but left the door open for civil unions.
Since then, 29 other states also have enacted defense of marriage amendments.
Opponents of civil unions say the partnerships could lead to same-sex marriage, likely through a court challenge based on the argument that gay couples aren't truly being treated equally unless they're allowed to be married.
Their fears may have grown when the Senate confirmed the state's first openly gay Supreme Court justice, Sabrina McKenna, immediately before the civil unions vote.
McKenna pledged to be fair in her future rulings.
"As any judge, we bring to the judiciary our life experiences, but we rule based on the evidence and the law, and that's what I've done for 17 years and will continue to do when seated on the Supreme Court," said McKenna, who wouldn't specifically discuss civil unions.
Posted by
admin
on Feb 21st, 2011 and filed under
Other News
,
Travel
. You can follow any responses to this entry through the
RSS 2.0
. You can leave a response by filling following comment form or trackback to this entry from your site