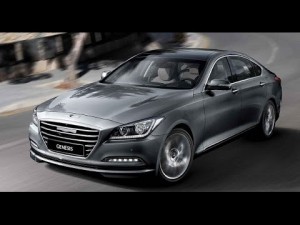 Up until last year, the Hyundai Genesis Coupe carried two quite different torches. On one side it was a lean, simple sports car—even aimed toward those who might want weekend track time—while on the other side it stood truer to its Genesis badge, acting as a lower-priced alternative to sporty luxury-brand coupes.
With last year's dropping of the turbo four and a reconfiguration of options, it's clear that the latter approach won out. And while Hyundai might have a different sports-car model in its future—and there's a little bit of irony in that both the Ford Mustang and Chevy Camaro now offer turbo fours and more communicative driving experiences—the 2016 Genesis Coupe acts as a compelling touring coupe, and a high-value alternative for those who might be considering a luxury-badged coupe.
As a rear-wheel-drive sports coupe, the Genesis Coupe serves as Hyundai's entrance into an area of the market that Japanese automakers had for some time abandoned and are now returning to, cautiously. It's an interesting side game to the brand's strategy as a maker of practical, high-value crossovers and cars—and indicative that Hyundai's willing to dabble in more fickle niche markets.
With last year's changes the Genesis Coupe went up slightly in price for its now all-V-6 lineup, and equipment improved somewhat, while the look didn't change. The 2016 Genesis Coupe combines the brand's 'Fluidic Sculpture' look of recent years with a lot more aggression and extroversion. These models got extra power and performance for 2013, as well as bolder face, better detailing, and some seriously upgraded cabin materials.
A 3.8-liter direct-injected V-6 is the only engine offered in the lineup. It makes 348 horsepower and 295 pound-feet of torque, and comes either with a standard six-speed manual or Hyundai's own eight-speed automatic.
That sounds like a great formula, and it is, if you get it in the right form. Manual-shift cars may be relatively hard to find, but they're worth it, with clean, precise shift action, and neat clutch takeup. Automatic models, offering rev-matched downshifting and steering-wheel paddle-shifters, feel sluggish when you let them shift themselves, both in throttle response and downshift responsiveness. Thankfully, very few of the driving characteristics from Hyundai's front-wheel-drive cars carry over into the Genesis Coupe. And the hydraulic power steering feels quite good.
The Genesis Coupe remains a low-profile two-door, with the back seat seemingly designed in as an afterthought. While it's a bit easier to get back there than in some other coupes, thanks to a useful mechanism and long doors, it's strictly kids' territory, as adults will likely have issues with headroom even if they can splay their legs to the side and get in.
As such, the 2016 Hyundai Genesis Coupe feels like a sports coupe first and foremost, and a luxurious coupe on a secondary basis. There is quite a bit of practicality here; it takes good care of front-seat occupants, and with a spacious trunk, good cabin materials, and a reasonably refined driving experience, it's as good for long weekend hauls or the commute as it is for the racetrack. The V-6 has an appealing, nicely tuned growl that's ever-present but not overbearing.
Standard equipment includes LED daytime running lights, fog lamps, cruise control, an auto-dimming inside mirror, heated mirrors, Bluetooth, an iPod/USB interface, keyless entry, A/C, and a trip computer. Hyundai Assurance Connected Car telematics are now included for three years if you get BlueLink services on upper trims.
Changes for the 2016 model year are limited to a new six-inch color center-stack display for base models, replacing the former dot-matrix display.
Step up to the 2016 Hyundai Genesis Coupe R-Spec and you get a track-tuned suspension, 19-inch wheels on summer tires, Brembo brakes, a Torsen limited-slip diff, as well as appearance extras.
The Ultimate features the same performance options as the R-Spec but adds a navigation system with seven-inch touchscreen display, leather upholstery, heated front seats, reverse parking sensors, HID headlights, and a 360-watt audio system.