I tend to eat a lot of different things each week; Thai, Japanese, Indian, Burgers, BBQ, Chinese, Italian, Mexican, etc., but sometimes I like a little variety. We have a couple of good Persian places and even an Ethiopian restaurant in town, but what we lack in Austin is a dedicated place for good German food.
Many years back in Austin we had Gunter's on IH-35. I was introduced to giant schweinshaxe (beautiful slow roasted pork shanks), spiced red cabbage, various schnitzels, and dark German beer.  I was a regular.
Gunter's is long gone, but just north of Georgetown, in the tiny town of Walburg, is the Walburg Restaurant. Housed in an old farming supply store built in 1882, the Walburg restaurant is a mixture of small-town America with a lot of German memorabilia. German state flags and beer banners hang from the ceiling, as do swags of green garland, all against a background of alpine views painted on the walls.
Their menu is filled with Bavarian-styled favorites: pork schnitzels, beef and pork sauerbraten, spaetzle (traditional egg and flour noodles), German fried potatoes and German potato salad, red cabbage spiced with clove and cinnamon, and classic sauerkraut.  On the weekends they feature a generous buffet with the standard fare, plus a good variety of salads.
Although there is a lot to choose from, I tend to favor the cucumber and dill salad, weinerschnitzels (thin pork chops fried a beautiful golden brown), pan-fried potatoes, and their secret recipe red cabbage.  (Grilled brats with Dusseldorf brown mustard usually make it to one of the plates, too.)
The restaurant has a small wine menu with a cross section of German Rieslings from Kabinett (dry) to Beerenauslese (very sweet), a few standard Merlots, Cabs, and Pinots, but the beverage focus is on the 80+ types of beer that they have available.
I recommend the Spaten Oktoberfest-style beer on tap. This is a medium dark beer that is a great foil to the savory food.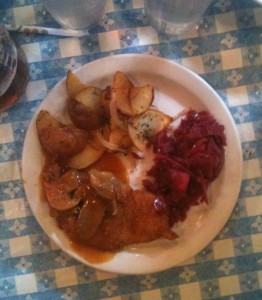 Typically, German food is thought of as just "meat and potatoes", but I think this really sells this cuisine short.  I have always liked the contrasts of savory, sour, and sweet elements.  The Walberg restaurant also has a variety of seafood dishes, including salmon and shrimp. Deserts also include black forest cake made with chocolate and a cherry filling, and a pretty good apple strudel.
In addition to the main dining room, the Walburg restaurant has a large Biergarten which features live music on the weekends.
For 23 years now, the Walburg Restaurant has been providing a great German experience in Central Texas. They are definitely worth the short drive for a great change of pace.
Walburg is located 4 miles east of IH-35 off of Exit 268.
One note of warning—the beer is cold and very good, and the local police know it too. A designated driver is strongly recommended.
By Richard Arebalo