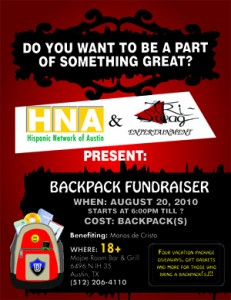 Mano de Cristo's goal is to provide more than 2200 students from pre-kindergarten through 5th grade with school supplies, backpacks, and clothing (2 changes of clothes, socks, and underwear) for the upcoming school year from August 2-6 and August 9-13 at the Travis County Building, 5335 Airport Blvd.
"There is a difference between students coming to school prepared on the first day and not.  It levels the playing field for everyone. Schools are elated about our program." Executive Director for Mano de Cristo, Julie Marinez Ballesteros and former teacher.
400 volunteers make it possible to assist the 200 children a day served by the program. These volunteers assist with duties ranging from registration, welcoming to videography.  The program is sponsored largely though individual donations and active board members. "People that have been through the program come back to make individual contributions or as volunteers."  Julie Ballesteros.  "We have so many people that we help who come back and want to make their own personal contribution to our community."
The majority of the population that Mano de Cristo serves is the working poor.  "They make enough not to qualify for any public assistance but are barely making enough money to survive." States Julie, who has seen the trend and has been director with Mano de Cristo for 3 years.
To help meet Manos de Cristo's continuous need, Hispanic Network of Austin ( a non-profit group of business professionals who focuses on marketing and given back to the  Hispanic community) along with Tri-Swag Entertainment will be hosting a fundraising event for Manos de Cristo back pack program on Friday, August 20, 2010 from 6-11PM at Mojoe's Room Bar & Grill.  For more information on donating money, backpacks, items for the inside the backpacks, and giveaways for the fundraiser contact Yvette Armani, founder of HNA, or Kimberly Richardson with Tri-Swag Entertainment at www.hispanicna.org.  There are four vacation package giveaways as prizes so far!
"Our group had already planned on doing a backpack drive but we immediately offered assistance once I found out about the program. They already knew which families needed the extra assistance." Says Armani.  For companies who can provide 10 or more backpacks, Hispanic Network of Austin will put their company's logo on the HNA web site as a sponsor of this project and Manos de Cristo has agreed to do the same on their web site.  Yvette Armani proudly says "There has been a tremendous response from the businesses that are involved letting community know they care.  There are even people from of out of town that are stopping by Austin to bring back packs from the exposure we are getting on face book about the drive."
"People will call after school has already started. A lot of schools are going to uniform, so last year we gave a lot of quality clothes we had left to schools in east Austin."  Says Julie Ballesteros who is pleased that her organization is getting additional help from the all the extra contributors with the help of HNA.
Manos de Cristo manage numerous other programs to assist with basic needs through their food pantry and clothes closet with new to gently used items year around.  This organization takes pride in their educational courses like; English as second language, basic literacy, job search, and citizenship. Volunteer opportunities are available in these areas all year long.  Dental clinic provides service to those that see a visit to dentist as a luxury and recipients are taught oral hygiene.  Call Judy Cardenas at 477-7454 X106 or [email protected] for volunteer opportunities. http://www.manosdecristo.org/
By Monica Pena
Austin Times Staff