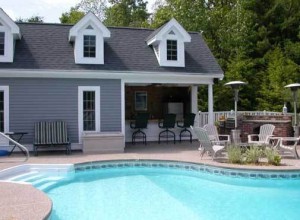 With the August heat starting to bear down on us and crowds flocking to community pools and area lakes, some homeowners may be considering adding their own pool to their backyard.  Future pool owners will need to take into consideration budget and factors such as size, shape, and features that will affect the price. Joni Ortiz, with locally owned Apiscina Pools, a company with 25 plus years in the industry serving the Austin area, states "The pool contractor will be able to make suggestions just by meeting, taking a look at the space, and talking with the homeowner."
Extra features to consider are water features like cascades, waterfalls or negative edges - planter boxes, fountains and bubblers, beach entries, etc.  "Create fun activity centers with swim-up bars, palapas and outdoor kitchen/grill areas.  Serious swimmers can install a pool heater for accessibility all year long.  You can also build different types of pools such as sports/recreational pools and health/fitness pools."  says Joni Ortiz.  Lighting can also be a creative addition to the pool.  LED lighting and color changing pool lights can enhance the mood of the space.
Families with small children have several options on making their pool area safe.  Property owners can install motion detectors, self latching gates, perimeter lighting, and landscape lighting. For further percussion, parents may want to install a pool cover or a pool net.  There are many types to choose from.  "There are also door and gate monitors that can be installed inside the home.  Be sure all electrical hook-ups comply with national and local codes," Ortiz from Apiscina Pools.
Questions to ask the contractor:
1. How long have you been building pools?
2. What type of warranties do you have and can I get them in writing? 3. Who handles the permits and HOA requirements?
4. Do you ever have any cost overruns and why?
5. What kind of pool equipment do you install and how am I going to know how to operate my pool.
6. How long will it take you to build my pool?
7.  What is the building process and what can I expect?
8.  What types of safety features are available?
9.  Can I make changes after we sign the contract?
10. Do you have references and/or completed pools that I can go see?
For homeowners on the fence on how much maintenance pools require, Joni Ortiz states "Pools have come a long way over the years and require a lot less maintenance time than they used to."   Self cleaning options are available to help keep pool water clean. "In-Floor cleaning systems save on energy and chemical costs by more efficiently circulating your pool water. This helps prevent chemical evaporation by putting the chemicals where they're needed and keeps heated pools warm all over with no cold spots to worry about and faster heating from start to enjoyment time." Joni Ortiz.
A non- Chlorine option is to install a salt system in the pool plumbing system. The water in the salt water pool is softer to the touch and is less irritating to the eyes and skin. "Be sure to use surfacing materials around the pool that are tolerant to the corrosiveness of the salt." Joni Ortiz cautions.
By Monica Pena
Austin Times Staff