I have traditionally associated Labor Day weekend with pool parties, boating on the lake, or tubing on the river.  However, this year I executed a slightly different holiday weekend game plan and ventured out to the beautiful outdoor camp grounds of Rockdale, Texas, to check out the first annual Texas installment of Insomniac Events' Nocturnal Festival.
Established in 1993, Insomniac, is the biggest promoter of nightlife culture in North America, producing more than 250 music events in California, Nevada, Colorado, Texas, Florida, Washington, and Puerto Rico.  A characteristic of  Insomniac events is the incorporation of musical performances with state-of-the-art lighting designs, art installations, and circus or theatrical performances, creating an experience that is whimsical the minute you walk in.
Over Saturday and Sunday, 25,000 music fans filled the lush grassy fields of Apache Pass. With four outdoor stages and a robust lineup that included DJs such as Kid Cudi, Armin Van Buuren, Girl Talk and Above and Beyond, it was well worth the drive.
Coining the phrase "Downtown, Texas" Insomniac's decision to have Nocturnal in Rockdale, was strategically calculated.  "We are very grateful to have been able to present this contemporary mix of arts and culture at this historic location," said Insomniac's founder, Pasquale Rotella.  "The venue is a treasure located between three colleges and it provided the perfect setting for two days of great music, unique art and wonderful times.  The Milam County locals, restaurants and motels were all very accommodating—the festival generated good business for the area.  We had several options for venues and I have no doubt that we picked the best one."
Nocturnal Festival, is one of Insomniac's cornerstone music festivals. Located each year in Los Angeles, this year marks the 15th year of Nocturnal Festival.  The event has come a long way, from an attendance of 3,000 fans at the first Nocturnal to over 40,000.  2010 is the first year Insomniac will produce two Nocturnal Festivals – this weekend's successful event in Texas and another one in the Los Angeles area on September 25.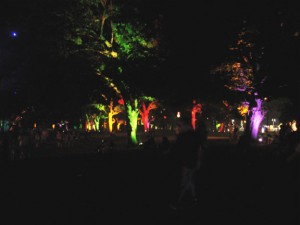 Compared to other countries, the United States has been slow to accept electronic music.  Perhaps part of the reason is that it hasn't been as easily accessible on a nation-wide scale.  Aside from the rave scene, metropolitan areas such as New York, Los Angeles, Las Vegas and Miami were really the only places that one could regularly find establishments playing electronic music.  However, that has slowly changed, especially over the past decade.  While there are many theories as to why this has occurred, one factor that seems to have contribute is the increased popularity of lounge-type establishments, bridging the gap between the traditional bar and club.  Another factor, is the increase in technology, making it easier for people explore new music.  In the past five years, especially, electronic music has become increasingly more mainstream in the U.S. Groundbreaking D.J.s from around the world, have started to include the U.S. in their tours.
Large music festivals such as Austin City Limits, Coachella and Lollapalooza have entire stages and tents dedicated to electronic music.  Having big name electronic music events such as Electric Daisy Carnival and Nocturnal come to Texas not only provides a venue for Texans to see live electronic music, but also helps put Texas on the map as a place to hear electronic music, hopefully drawing in more events and fans from outside the lone star state.  If you missed this year's Nocturnal Festival, have no fear, plans for next year's event are already in the works.
By Katie Warner
Austin Times Staff