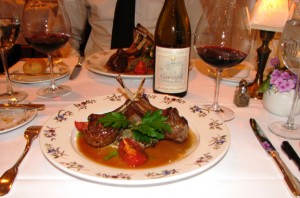 Over the years, central Austin has had many restaurants situated in vintage houses; Green Pastures, Paggi House, Basil's, East Side Café, Mars, and Starlight to name a few. Some are still going strong and others are just wonderful old memories.  I've always loved these kinds of restaurants. They are usually Chef owned, comfortable and romantic. For the last 10 years, Aquarelle on Rio Grande Street, just north of 6th has been serving classic gourmet French food in a beautiful restaurant that was knitted together from 2 small houses.  With wooden floors throughout, beautiful paintings, tapestries and mosaics lining the richly colored walls and old-world lace curtains veiling the windows, the rooms are elegant yet relaxing.
The tables are always set with crisp white linen, real silver and china
and the soft lights coming through the many windows seem to transport
you to a different place.
Run by Chef and Owner Teresa Wilson and Chef Jacques Richard, Aquarelle provides French standards like; Pan Seared Foie Gras, Escargot, Duck Confit Crêpes and Frenched Lamb Chops.
Before the meal begins, the chef sends out an "amuse bouche", a little present to whet your appetite.  Ours were a bright, fresh asparagus mousse with a crisp little round of French bread and a small portion of faro with diced tomatoes on tomato vinaigrette. Both did their job by promising something really good to follow.
On two recent visits, I started my meal with a fantastic crêpe filled with shredded Duck Confit. These were served on a flavorful orange gastrique (sugar, vinegar, fresh orange juice) and topped with a small dollop of crème fraiche. A glass of champagne was perfect with this appetizer each time.
My latest entre was a generous portion of lamb chops with a mung bean purée, fennel and onion compote and a lamb jus that was worth sopping up with the home-made dinner rolls.  A very fragrant Domaine de l'Ameillaud – Cairanne, Cote du Rhone Village was a really good pairing.
Aquarelle typically has a good variety of desserts; seasonal clafoutis (traditional, baked fruit in custard from the Limousin region of France), brulées, and mousses.  My favorite recently has been the Hot Chocolate Soufflé Cake, served with home-made vanilla ice cream and an orange Suzette sauce.
The service at the restaurant is very attentive but with just the right balance of checking on your needs but letting you enjoy your meal.
Though I have spent many special occasions at Aquarelle, two tasting menus under $50 and a very affordable Bar menu make the restaurant accessible for nice meals on a whim.
606 Rio Grande, 479-8117             Tuesday-Saturday, 5-11pm
By Richard Arebalo
Austin Times