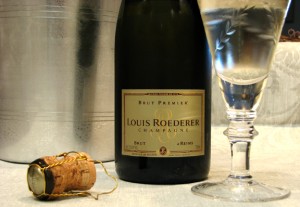 As Christmas and New Year celebrations are upon us, I decided to do some research into Champagne.
Though I really like the stuff, there are dozens and dozens of French Champagnes to choose from in anything from a reasonable thirty dollars to hundreds of dollars for the non-vintage brands alone.
Styles vary from crisp light wines to complex yeasty "serious Champagne".  (I prefer the former.)
And then there is the issue of sugar; though Champagne has been the drink of celebration for centuries, the most popular style of champagne has changed quite a bit over the last couple of hundred years.
Most would be surprised to know that in centuries past, German Kings and Russian Emperors toasted with a seriously sweet version of the bone dry, fizzy wine we enjoy today; sometimes adding sweet liqueurs and even powered sugar.
The inherent sweetness of a Champagne is determined in one of the last stages of making the wine. As the spent yeast from the second fermentation is ejected from the bottles, a small "dose" of new wines is introduced to top it off. The new wine contains the sugar that determines the final character of the Champagne.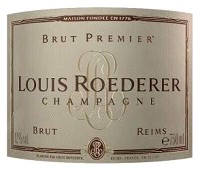 In the mid 1800's, Champagne for the Russian market had added sugar of 250-330 grams per liter (Pancake syrup by today's standards), the French preferred around 165 grams, and the English liked the driest Champagnes at between 22 and 66 grams.  (15 grams or less today is considered brut)
The driest form of Champagne was introduced in the 1840's by the Champagne house of Perrier Jouët, with zero sugar in the dosage. This made for a severe, "brute-like" wine. Unpopular at first, over the following decades the very low sugar-added wines became the predominant style that we have today.
I recently tried a Louis Roederer - Brut Premier that had been highly recommended by Mark R. at Spec's on North Mopac.  Served with conversation alone, a friend and I really enjoyed it.
The wine was a pale straw color and we immediately noticed a lot of fizz; tiny bubbles, and many strong ribbons of them going up the glass.
The first aromas were faint green apple and citrus and the classic yeasty bread fragrances of good Champagne. The bubbles carried into the mouth feel and made for a creamy texture. On the palate, the wine was full bodied with again green apple and this time more distinctly grapefruit in the long finish.
The Roederer stayed effervescent for a good long time and we both agreed that though categorized as brut, it seemed milder and would probably appeal to friends that would not generally prefer Champagne.
Though some brut Champagnes can be unpleasantly tart, I think this is a very approachable wine; the acidity is crisp but not overpowering. The complexity allows for more focus on the yeasty, toasty flavors than just the sharper notes of the acids.  The wine is priced at around $40.
By Richard Arebalo
Austin Times Staff