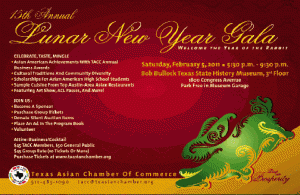 The Texas Asian Chamber of Commerce (TACC) is holding the 15th Annual Lunar New Year Gala on Saturday, February 5th from 5:30 PM to 9:30 PM at the Bob Bullock Texas State history Museum with the theme of "Leap into Prosperity," in conjunction with the Year of the Rabbit.  This fun-filled evening will feature a traditional Chinese Dragon Dance to ward off evil spirits, a Parade of Nations, emceed by award-winning actor Leng Wong, business awards recognition, and scholarship awards.
Texans that are committed to prosperity, including those that are building Austin's global brand, sustainable communities, and emerging entrepreneurs will be honored at the awards ceremony in four categories: Small Business Person of the Year, Global Innovation Award, Sustainability Leadership Award, and Chairman's Award.  Business awards will be presented along with several $1,000 scholarships to Asian-American high school seniors.  "Austin is at the forefront of best places to start a business, and Asian Americans continue to support Central Texas growth – in terms of revenues and job creation. The Annual Lunar New Year Gala is one of the ways TACC builds a bridge between key community stakeholders and the Asian American community," explains Jim Yatsu, chairman of the TACC Board of Directors.
The Gala brings together stakeholders from diverse communities in Central Texas – corporate leaders, small businesses, government leaders, and the public at large to share in a spectacular evening of cultural performances, cuisine from locally owned Asian restaurants, cash bar, and silent auction.  Musicians will include Korean gayageum instrumentalist Mi Seon Nam. "Tradition dictates that family and business ties be celebrated the first fifteen days of the lunar new year. Please join us in creating prosperous new ties," Jim Yatsu invites to attend the event and find out more about the organization, www.txasianchamber.org .
By Monica Pena
Austin Times Staff