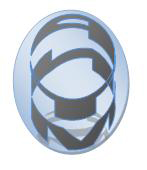 The Teen Parent Mentor Network of Austin (TPMN) will be hosting a Kickoff Party and Silent Auction with items from local Austin retailers as an introduction to the Austin area on January 30, 2011 from 6-8 PM at the Old Pecan Street Café (504B Trinity Street in Downtown Austin).  The event is open to the public and free with donations collected at the door, free appetizers, and a cash bar. Net proceeds for this event will go to help TPMN provide quality mentors and resources to the young parents of the Austin and surrounding community.
The Teen Parent Mentor Network of Austin (TPMN), a newly-founded mentoring organization serving parenting youth under 21 years old, plans to use the benefits of mentoring to combat the grim statistics on teen pregnancy and parenting in the Austin community. TPMN provides resources including mentors, parenting classes/programs, and personal/financial/educational training sessions to its clients free of charge.  TPMN serves to foster mentor relationships to teen parents (or expecting teen parents) through program activities that will help mentees learn the skills to become leaders of their new families.  Many of the mentors have faced similar challenges because they were teen parents themselves, have been single parents, or have been raised by a single or teen parent.
Alyassia Taylor, Executive Director of TPMN, stated "As a former teen parent, I understand how hard it is to continue with school, raising not only a new baby but yourself as well. It is our hope that young parents in Austin will look to TPMN mentors for encouragement and a compassionate ear that is needed during such a tough time."
The goals of TPMN are to build confidence and self-esteem in young parents, increase graduation rates of teen parents, reduce numbers of child abuse and neglect cases among young parents, bring awareness to the community of the special needs of young parents under 21 years old, and help prevent teen pregnancy in the community through educational efforts. Research shows that mentoring helps improve the lives of young people by boosting self-esteem and providing additional motivation to continue in school.   For additional information see the Teen Parent Mentor Network website at www.teenparentmentornetwork.org.
Teen pregnancy consequences that affect the whole community provided by TPMN:
Around 70 percent of pregnant teens drop out of high school.  This is a much higher rate than the drop out rate for teens who do not become pregnant.
At least a third of girls who drop out of school do so because of pregnancy. Only half of teen girls who drop out of high school are employed, and those who are employed make significantly less than those who finish high school.
75% of teenage pregnancies are adolescents from single parent homes. The majority of these teen parents will also be single parents.
90% of prison inmates between 15 and 19 years old are products of adolescent pregnancy.
By Monica Pena
Austin Times Staff