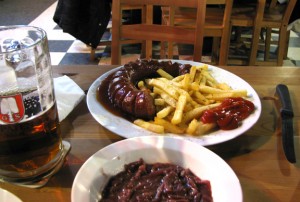 In a small strip center near the edge of Pflugerville is a small German restaurant that does something unusual. The chef makes nearly everything from scratch; the soups, the sausages, the schnitzels, fried potatoes, potato dumplings and even the desserts are made fresh by Chef Sonya Vogt, a native of Nuremburg.
The menu is pretty straight forward; pork and potato heaven (plus beer).  While there is a "Nurem-burger" on the menu, the highlights for me are the traditional (Viennese) Wiener Schnitzel, (Swiss) Schweizer Schnitzel with a sunny-side-up egg, (Hunter) Jaeger Schnitzel with mushroom gravy, and (onion) Zwiebel Schnitzel with onions and brown gravy. There is also a variety of wursts (sausages) and daily specials.
This neighborhood restaurant is popular with local residents but interestingly enough, each of the three times that I have had dinner there, I've heard German spoken at the bar.  Waitresses Ines Mosely from Hamburg and Virginia Volz from Garmish are friendly and make even new comers feel like regulars.
The restaurant was opened in March of last year by owners Silke Dye and her husband Jeremiah, and has filled a much needed spot for good home-style cooking in Pflugerville.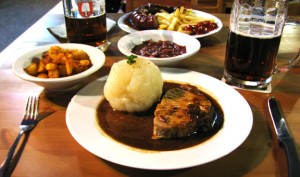 There are four German beers on draft, including Spaten Oktoberfest, Franziskaner Hefe Weissbier, Trumer Pilsner and Summer Koelsch which can be served in normal to monster sized steins. There are also twenty-eight varieties of imported bottle beer, ciders, wine and German mixed drinks.
On a couple of cold nights so far, the perfect meal has been the Schweinebraten (slow roasted pork). The dish is normally served with a traditional Bavarian potato dumpling; however the home-style pan fried potatoes are a perfect match with the tender pork and gravy.  A small bowl of the red cabbage or Blaukraut makes for a great tart, spicy counterpoint to the savory pork.
A friend, who isn't really a big meat eater,  has really enjoyed the Pork and Turkey wurst served with a curried ketchup.
Where possible, I like to end a meal with dessert, and so far, the light apple strudel and the Apple cake with marzipan and apples have been terrific.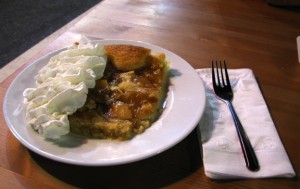 There are many menu items that I still have to try, but when the temperature drops into the thirties, home cooking like this will make you wonder how you could have eaten anything else all these years.
Nuremburg Brauhaus is closed for dinner on Sundays and all day Monday.
By Richard Arebalo
Austin Times Staff