Themed by the year of the rabbit, luckiest animal of the Chinese Zodiac, The Texas Asian Chamber of Commerce (TACC) celebrated the 15th Annual Lunar New Year Gala at the Bob Bullock Texas State History Museum.  Contemporary oil paintings from world-renowned Chinese-American artist Xinsheng Wang back dropped the festivities and the spectacular evening commenced with featured honored guest, loud drumming and lion movements from Texas Dragon/ Lion Dance Team, and cuisine from locally owned Asian restaurants.
A diverse group of honored guest embraced the stage including Captain Dashiel Ballarta, military hero awarded Bronze Star Medal ,Sanjiv Arora, Consul General of India, and Dilawar Syed, Economic Development Chair of President Obama's Advisory Commission on Asian Americans and Pacific Islanders, and actress Leng Wong (event's emcee),  Award-winning actress.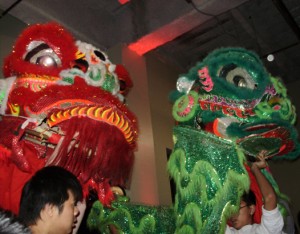 Texas Asian Chamber of Commerce recognized global innovators strengthening ties between Central Texas and Asia, advancing Asian American businesses, and/or creating an environment encouraging entrepreneurship, innovation, sustainability and volunteerism with awards in these categories:
1. Small Business Person of the Year:
Female Business Leader, Niyanta Spelman founded Austin-based Rainforest Partnership that partners with rainforest communities to create sustainable economic alternatives to deforestation to protect Latin American tropical rainforest.
Male Business Leader, Sam Chen created the only Asian American owned upscale boutique hotel in Austin. As Chair of the Austin-Xishuangbanna, Chen has collaborated with both Chinese and Texas legislators to promote mutually beneficial opportunities in both economies.
2. Global Innovation Award:
Fisoc, Inc. –Created BuzzBanking, a social media marketing software platform that presents financial advice and service rewarding good financial behavior.
3. Sustainability Leadership Award:
BarZ Adventures- Easy-to-implement turn-key solutions that include customized location-based multimedia software, proprietary hardware and professional multimedia content production services.
4. Chairman's Award:
Shirley Sheffield, New York Life – Currently serves on People Fund Loan Committee, The Greater Austin Hispanic Chamber of Commerce's Access to Capital Committee, and as Gala Chair with TACC.  Sheffield is committed to assisting with manage risk with mutual funds and long term care.
Parade of Nations demonstrated traditional and modern dress from Asian countries like Philippine outfits made of pineapple/banana fiber to cultural Pakistan attire. Live auction items went quickly including the "Leap into Prosperity" handmade quilt by Laurie Denchick from Round Rock.
College Scholarships of $1,000 were awarded to four Asian-American high school seniors who excelled academically and community involvement.  Two Cedar Park High School Seniors were chosen Ranjeet D. Kar, will major in Natural Sciences relating to medical care and Urvashi B. Mitbander, major in pre-med.   "This Scholarship will help me receive a high quality education in the sciences to make a difference in people's lives," says Kar.  Thomas J. Suh, Hendrickson High School Senior majoring in Physical Therapy and Samantha Quynh-Nhien Truong, West Lake High School Senior majoring Biochemistry both plan to attend  UT Austin in the fall.
By Monica Pena
Austin Times Staff