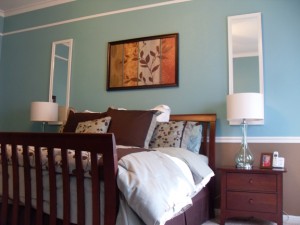 Tired of coming home to the same color pallet?  How about adding some dramatic color combinations into your space?  "Black, red and gold. Aqua blue and light orange," Ariana Anderson, Owner/Designer at Interior Devotion (http://www.interiordevotion.com/), explains about dramatic color, combinations that work well, and one of her favorite colors. "I LOVE using almost any shade of blue when decorating."
Anderson inspires her clients to select colors that will make them feel their best. "Reflecting on what you are wearing when people compliment your eyes or hair can give you a great starting point," she tells about her color rule. "From there I build on one or several colors following a simple design secret I pass along to each of my clients. That is the most beautiful spaces follow a balance of either 80/20 or 75/25 cool and warm colors. Analyze your flooring and existing furnishings to determine whether they have warmer or cooler tones- or may be truly neutral and be non-factors in the formula. Then, work to achieve the balance between cool and warm through your wall color and accessories. I learn what colors my clients are drawn to and make them feel good.  Then I build a plan around it."
Anderson does not believe color is limited to the walls, "I think you can be missing a big opportunity on that 5th wall! If your ceiling is vaulted and you want more intimacy in the room, then go a shade darker than the walls. If you have a tray ceiling, consider painting the recessed area like you would an accent wall."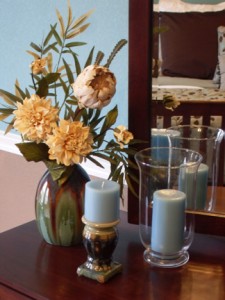 Anderson reflects on an experience where a client with beautiful tan walls and white crown moldings painted their tray ceiling an amazing burnt orange, Masada from Sherwin Williams.
"Other times when color is your friend, it draws the eye up to architectural details like moldings or a stunning chandelier. I have white ceilings in my own house that coordinate with base molding and other woodwork, but very bold wall colors. Ceiling height played a role in the decision for them to stay white since we have an older home with 8 foot ceilings. I can't condemn them for these situations like mine!"
Anderson recommends homeowners use moderate hues when planning to resell their home in the near future.
"The architecture of the home and the demographic of the neighborhood are important to consider when reselling. For example, a hip SOCO bungalow with a bold palate is going to suit the audience just fine. I love color and am not afraid to use it, but advice clients with a shorter timeframe in their home that using a neutral wall or simple accent walls that are easy to cover when the time comes are most practical. Use color in your art, accessories and furniture to give you that style you are craving."
For more information on Ariana Anderson and Interior Devotion visit: www.interiordevotion.com
By Monica Pena
Austin Times