The Manifest Foundation, Nancy Lieberman Foundation, and several local Austin businesses are hosting a series of three fundraisers throughout the summer to help efforts of Boys and Girls Club of Austin and the Amy Wedgworth Foundation. The first event raised almost $7,000 toward the goal of $33,000.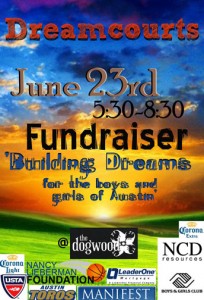 Part two of the three part Charity Fundraiser series will be held on Thursday, June 23rd from 5:30 to 7:30 at Dogwood http://www.thedogwoodaustin.com/ This series of charity fundraisers will help to build two DreamCourts in South Austin for youth in the area to play basketball and tennis in their community.
Through proven successful programs and meaningful relationships, The Boys & Girls Club of the Austin Area has provided hope and opportunity to nearly 1,500 Club kids from disadvantaged circumstances. Olympian and Basketball Hall of Famer, Nancy Lieberman, with mission to building high-quality basketball courts in disadvantaged areas, with the use of minimal material expenditure or construction costs and The Manifest Foundation that identifies effective, efficient and conscious initiatives and unifying with them to integrate partnerships and funding for the highest synergy and circulation of resources.
The partnership between The Manifest Foundation and the Nancy Lieberman Foundation has already produced the first "DreamCourt" in Frisco, TX. The proceeds from these three Charity Fundraisers in Austin, will produce the second in a series of "DreamCourts" to be built and installed throughout the nation, and eventually across the globe. In addition, 30% of the entry proceeds will benefit the Amy Wedgworth Foundation, set up to help with Dogwood's Bar Manager's sister (Amy's) extensive medical bills and a critical need for medications that can dramatically improve her quality of life and help her spend more time with her loved ones.
All guests with a $5 entry donation to part two of the fundraising series will get a wristband for $1 Coronas, $10 donation get donors the wristband PLUS 2 free drink tickets for Corona or Corona Light. Visitors will hear a presentation from Brian Beaulieu and children from the Austin Boys & Girls Club. Guests will have opportunity to mingle with The Corona Girls from 6:30-8:00 p.m., and networking with local businesses in attendance. Business Cards Rafffle will include prizes from JT Photography, music CDs and many more! For businesses interested in making a contribution, there is a minimum business sponsorship of $100 with all corporate sponsors receiving entry wristbands and drink tickets to fundraising events.
For more information on corporate sponsorship, or online donations, of any denomination, please contact Carmen Hernandez [email protected]
By Monica Pena