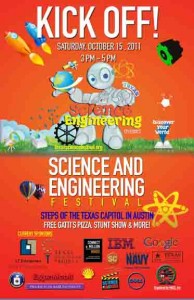 The Texas Science and Engineering Festival will kick-off its second annual celebration of science and engineering on Saturday, October 15 at the south steps of the Texas Capitol from 3:00 PM to 5:00 PM. Complete with live movie stunts and free Gatti's Pizza, guests will get a preview of what's to come at this year's Texas Science & Engineering Festival.
Setting his hand on fire, filling gyms with smoke, exploding flower pots and dangling school principals in the air are all part of Steve Wolf's "Science in the Movies" show.
During a vivid 1-hour glimpse into movie magic, stunt and Special Effects Coordinator Steve Wolf shows how the spectacular feats seen in movies are all based on simple science principles to heighten kids' interest in science, safety and movie-making. Youth visiting the event will explore the secret science behind movie stunts, special effects, and find out how actors breathe in rooms full of smoke, how stunt people fall off buildings unharmed, and more.
This year's a two-day expo, Texas Science & Engineering Festival, at the Austin Convention Center will be held on November 5 and 6, and hosted by the MAES, Inc. in conjunction with the USA Science & Engineering Festival.
"Festivals are for sharing happy triumphs and exciting civic pride. For inspiring achievements in Science and Engineering, Austin deserves a mighty Celebration!" says Noble Prize winner Dr. Dudley Herschbach Nodel Laureate. The second annual Texas Science and Engineering Festival will make science and engineering accessible, fun and inspirational for Texas' youth and families.
Attendees will have an opportunity to explore the wonders of science with FREE activities for the whole family featuring a wide variety of events including hands-on demonstrations, free giveaways, and live entertainment at more than 100 fun and interactive activities to inspire the next generation of scientists and engineers.
For more information about the Texas Science and Engineering Festival, including schedule details, corporate sponsorship and individual giving opportunities, frequently asked questions and comments from science and engineering community leaders please visit texassciencefestival.org.
By Monica Pena
Austin Times