To me, food tastes better on vacation. It could be because it is a vacation; lack of stress, better restaurant options when not pressed for time, or often just unusually good regional specialties. But, I am always astonished at how the humblest places in Italy seemed to have better food than many pricier places in the States.  Often the same simple ingredients here just don't seem to come together the same way.
Recently, some friends took me to Milano café and I got a big surprise; a small, reasonably-priced restaurant, off the beaten path, where the sauces taste like Italy.
Though the windows advertise panini, crêpes, and pizza, Milano Café offers a full Italian menu with a great variety of pasta dishes, salads and desserts.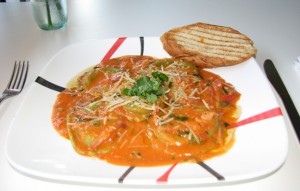 In business for just a couple of years now, Sami Demi the owner of Milano Café brings several generations of family recipes from Calabria Italy (with a few Albanian touches) to a grateful neighborhood and business lunch crowd in southwest Austin.
My favorite dish at the restaurant is the Spinach Ravioli. It is a made-in-house ravioli stuffed with spinach and ricotta and served with a light tomato cream sauce with strips of sautéed prosciutto. The amazing thing here is the resemblance to the food at small Roman cafés; a nice compliment to the ravioli, the bisque-like sauce is rich and flavorful, but with no edges from the tomato or over seasoning.
Though there are many good things on the menu, I keep coming back again and again for this dish.
In addition to lasagna and traditional Alfredo sauced dishes, there are seven different pizzas on the menu; one even features Albanian sausage that Demi sources from New York.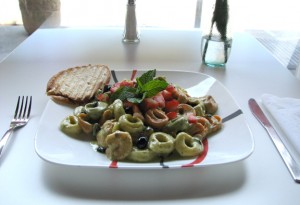 A few friends are hooked on a slightly unusual specialty, "Tortellini Piedmontesa", plump cheese tortellini mixed with shrimp, dried currants, blueberries, strawberries, and capers and tossed with a mint and basil pesto.
Demi's grandmother said that this version of the traditional dish was invented in leaner times when one combined what was readily available.  The combination seems odd, but the result is delicious and very popular at the restaurant.      
To finish a good meal, save room for some of the specialty desserts. Like the entrees, many are based on old world or family recipes.  Selections like Limoncello or Orangecello infused cakes or "Spanish Wind" with three fillings of nuts, chocolate and vanilla cream are really worth the indulgence.     
The restaurant is open all day Monday through Saturday.  Lunch is served with a complimentary salad and iced tea, and you can bring your own wine without a fee.
As I was taking pictures for this article, a local patron jokingly said she was sorry to see that the neighborhood secret was going to be let out.   OK…understood …. so only tell a few dozen friends each. 
Milano Café is at 4601 Southwest Parkway.
By Richard Arebalo
Austin  Times