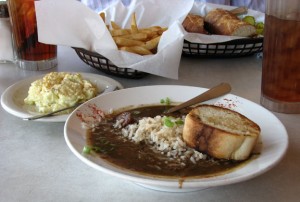 The first thing you notice in this south Austin Cajun café is that someone there must really love live music and Louisiana. Every square inch of the Evangeline Café is decorated with autographed playbills, flags, masks, posters and sports jerseys. The predominant colors being the purple, green and gold of Mardi Gras. The next thing you notice is that the food is just darned good.
Louisiana native and Café owner Curtis Clark was always getting asked where he thought the best Cajun food was available in Austin. His answer with a smile was usually "it's what I cook up in my kitchen".
Eight years ago he backed that up by opening a restaurant.   
Evangeline's menu is standard Cajun recipes; fried seafood, gumbos, red-beans and rice, and some classic sandwiches, but the details like fresh bread, baked in-house, really fresh tasting seafood and home-made sauces make the café very popular with regulars and new comers alike.
I'm a really big fan of gumbo, and Evangeline has three varieties; an excellent seafood gumbo with large shrimp and oysters, a rich comfort-food chicken and sausage, and even a vegetable gumbo.  The servings are generous and all have a great depth of flavor.
Other lunch favorites are the shrimp Po-boy and French fries and their red beans and rice.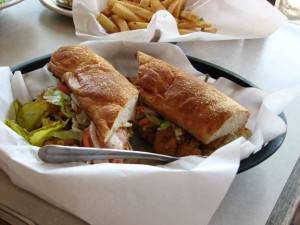 For the more adventurous, Alligator bites, battered and lightly fried nuggets topped with a spicy rémoulade-like sauce are available, and go particularly well with a cold Abita Amber beer.
At the end of the meal either the moist bread pudding or the pecan praline stuffed pistolette (a fried bread roll imported from a Lafayette bakery) is worth the indulgence.
The café hosts live music most evenings, and together with the Abita beer and great food it really completes the Louisiana experience.  
The Evangeline Café is at 8106 Brodie, a few blocks south of William Cannon.    
By Richard Arebalo
Austin Times