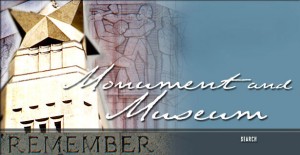 New free exhibit looks at awards, rewards and medals
An intricately crafted medal awarded for valor or service in the field; a bejeweled crown worn by a beauty queen; a silver cup given for meritorious actions; and scholarship medals designed by well-known artists are a few items on display now at the San Jacinto Museum of History's free lobby exhibit "Relics of Achievement."
Now on display until the Fall, this lobby exhibit features artifacts awarded for a variety of reasons and actions throughout Texas and U.S. history.  These include county fair ribbons, a silver napkin ring won as a prize for needlework at the Texas State Fair in 1878, a commemorative medal marking the Sesquicentennial of the United States Military Academy in 1952, certificates awarding land and funds to veterans of the Texas Revolution, and a crown worn by the Duchess of San Jacinto in the 2009 "Court of the Century" at Fiesta in San Antonio.
Be they made of precious metals and gems or as simple as a sheet of paper, items of thanks and appreciation have a history that stretches back to early civilization, with evidence of these relics found in almost every ancient culture.
In its first hundred years as a nation, the United States awarded few decorations or medals, as the American people generally considered them to be undemocratic in nature and the symbols of European monarchies.  While the government did not begin awarding decorations on a large scale until World War I, secular groups in the U.S. offered numerous awards for merit or to confer authority before then.
OTHER SAN JACINTO ATTRACTIONS:  Visitors to the monument can enjoy plenty of free activities on the grounds of this state park: free admission to the park; free parking; free to walk the San Jacinto Battleground and relive the famous battle for Texas Independence; free picnic tables, grills and water faucets; free to explore the 1,210-foot long marsh trail and boardwalk to see the native prairie, tidal marsh and bottomland forest as it appeared at the time of the historic 1836 Battle of San Jacinto; and the permanent exhibit at the Museum.
Individual or combo tickets can be purchased to enjoy the Making a Mark… Leaving a Legacy special exhibit, the elevator to the observation deck, and/or movie Texas Forever.  The Battle of San Jacinto.     All exhibits are located on the first floor of the San Jacinto Monument at One Monument Circle, La Porte, Texas.
MORE INFORMATION: For more information about this exhibit or the San Jacinto Museum of History, please call 281-479-2421 or visit www.sanjacinto-museum.org.  Visit the museum's Facebook for additional information about artifacts in the collections.