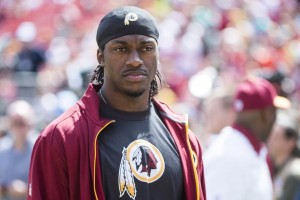 If there had been any doubt about the future of Robert Griffin III with the Washington Redskins, team president Bruce Allen made the future perfectly clear on Tuesday.
During an interview with a San Diego radio station, Allen was asked if Griffin would be back.
"Well, no. I see Robert getting an opportunity with another team," Allen said. "We've heard from some teams that are interested. I think he's going to have a choice of a couple teams that will let him excel in the future."
Griffin sat the entire season as Washington's No. 3 quarterback and watched Kirk Cousins take control of the quarterback job. The Redskins didn't want RGIII to get hurt so they could clear his more than $16 million contract from the books this offseason.
Allen praised Griffin for his deportment during the past season and says it bodes well for the Heisman winner and whichever team he plays with next season.
"From the very beginning Robert has handled himself as a professional," Allen said. "From when we first drafted him all the way through he's been a good teammate and a good guy. I know some people on the outside always like to be critical, but his teammates like him, his coaches like him, he does have some special talents and we wish him well."
The Redskins have until March 9 to cut RGIII.