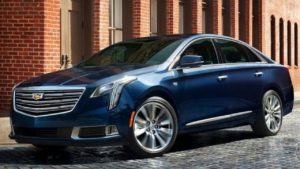 Cadillac's entry into this competitive market is a competent handler and feels luxurious enough inside, but some touches are lower-market than its price tag would suggest. We've given it 5.8 out of 10 points overall.
After incorporating a heated steering wheel into most trim levels last year, the 2019 XT5 gets a similarly-slim slate of changes, adding three new colors for 2019: Shadow Metallic, Red Horizon Tintcoat, and Dark Mocha Metallic. Trim levels still include base, Premium, Premium Luxury, and Platinum, but don't look for a sporty variant like the brand's sedan models.
All versions of the XT5 come with a stalwart 3.6.-liter V-6 with 310 horsepower as standard. An 8-speed automatic transmission sends power to either the front or all four wheels, and all-wheel drive comes standard only on the top-of-the-line Platinum model. This is no off-road vehicle though, but that's typical for a segment that includes comfort-oriented options like the Audi Q5, BMW X3, Mercedes-Benz GLC-Class, Lexus RX, and Volvo XC60.
The XT5 starts a hair over $40,000, but the sticker price can climb fast as you add trim levels and options. A fully-loaded XT5 Platinum comes with a $70,000 asking price, which is frankly far too expensive given the strength of this Caddy's rivals.
The standard XT5 is fitted with a full suite of airbags and stability control like most modern vehicles, but Cadillac restricts advanced safety tech like automatic emergency braking to only higher trim levels.
The 2019 Cadillac XT5 wears the brand's unique recent styling language, but in a softer, more anonymous guise. We've rewarded the XT5 for its handsome interior, but the exterior design is painfully average, earning a 6 out of 10 on our scale.
A tall side profile and few standout styling elements make the XT5 an exercise in restraint, but one that doesn't quite work for us. The swept-back headlights with the signature vertical LED design are cool, but the rest of the car looks bland, a stark contrast to bold and brash Cadillac sedans of the last few years and over time.
Inside, GM parts bin switchgear abounds, though the dashboard and infotainment display are wide, flat, and appealing to look at. This comes at the expense of functionality, though, as the capacitive touch buttons for the climate control system (just give us real buttons, please) are hidden below the trim.
Faux or real wood accents adorn the cabin, as well as faux or real aluminum depending on how much you're willing to spend. If you don't mind fake trim that is a convincing alternative, save your cash and opt for a lower-spec interior package.
The 2019 Cadillac XT5 manages strong acceleration and performance from its lone engine option, but things fall apart when the going gets twisty.
In terms of ride and handling, the 2019 XT5 has a subtly sporty feel, and the powertrain provides decent grunt from a tried-and-true V-6. The power steering unit is light under low load and centers nicely at higher speeds. Selecting Sport mode dials up the heft, but most drivers won't notice the difference before significant time behind the wheel.
The XT5's main competitors use a combination of rear- and front-wheel drive platforms, and the Cadillac makes use of the latter, suffering many of the same drawbacks. The optional all-wheel drive system (standard on Platinum models) helps make things grippier but isn't intended for off-road use like some of its more hardcore rivals, namely the Land Rover Discovery Sport.
The fully-independent suspension system provides a comfortable ride, and top trim XT5s get magnetic suspension that continuously adjusts damping, a noticeable and necessary addition given the 20-inch wheel diameter on Platinum models.
A 3.6-liter V-6 is the only engine option and makes 310 horsepower and 271 pound-feet of torque. That's good enough for robust acceleration and just a hint of torque steer in front-wheel drive models. The only transmission on offer is an 8-speed automatic, and it shifts well enough, but the drive-by-wire gear shift feels like a cheaper BMW knockoff, and doesn't provide the same tried-and-true functionality as a traditional shifter.
The 2019 Cadillac XT5 lineup spans a wide range of prices and options despite only one powertrain option, with the base model coming in at almost half the price of a fully-loaded example. All XT5s have an upscale feel and comfortable front seats, as you'd expect from a luxury crossover.
Base models feature a durable, if not exactly luxurious synthetic leather upholstery, while the Premium and Luxury trim levels offer nicer-feeling real leather. The Platinum model takes things a step further with semi-aniline hides. Some competitors such as the Audi Q5 come standard with leather trim, so it's a shame that XT5 buyers have to pay extra.
Standard power-adjustable seats up front provide solid support, and lumbar adjustment is included on Luxury and higher trim levels for driver and passenger. The XT5 is somewhat narrower than many rivals.