Diverse dance groups featuring routines from different genres and dancers of various ages, sizes, and abilities held a showcase on July 17 at the Go Dance Studios in Northcross Mall, next door to Guitar Center. The first annual Austin Dance Showcase was put on by Body Positive Dance, a non-profit dedicated to helping create healthy habits, high self-esteem, and friendships though dance.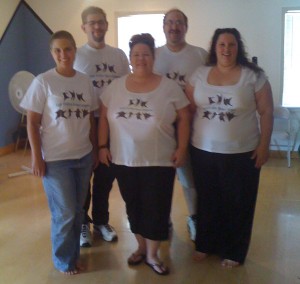 Internationally known B-Boy Blitz and his students, including Amara, a Ph.D candidate in Dance History and an accomplished Middle Eastern dancer, were among some of the performers. Aspiration Dance Company, an adult ballet company that caters to people on all levels, and Morgan Taylor Dalley, a sacred dancer, added their styles to the night.
"We have performers as young as twelve and we have dancers representing urban B-Boy, Middle Eastern dance, Argentinean dance, American Jazz, and more," said Ragan Chastain, Director and one of the principal dancers.  Of course, along with these dancers was Body Positive Dance, an International Award Winning jazz team.  The event was sponsored by Herbalogic, Connective Management, PowerPinc, Vamps Dance, and Catherine DiPalma.
Ragan Chastain emphasizes that everyone should be respected no matter their size through her organization, Body Positive Dance. Chastain said that her greatest accomplishment has been "learning to love myself and my body, and to be truly happy living completely outside the cultural beauty norm. As a plus-sized professional athlete, I am a strong advocate for Health at Every Size and behavior-centered health." Chastain advocates multi-dimensional health and promotes individual, enjoyable, physical activity instead of exercise that is focused on only weight loss.
Dance training was not an always option for Chastain, who grew up in a small town, but she always found herself involved in performing.  Ragan started choreographing and has performed in a variation of different dance-related fields, including figure skating, cheerleading, drill team, jazz dance, musical theater, and swing choir. The company recently won third place in its first International Competition.
Chastain is a three-time National American Country Dance Association Champion.  Principal dancers with the group, Mel Maas and Brian Hamburg, are International Association of Gay and Lesbian Country Western Dance Club Champions.
Body Positive Dance company is recruiting for next season. Anyone interested in dancing on the team can find more information on their website at www.bodypositivedance.org.
By Monica Pena