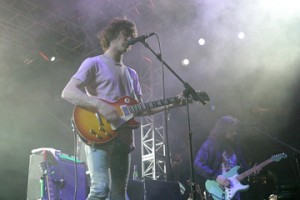 Fun Fun Fun Fest announced today in a press conference that would be putting into effect a "Fun Stimulus Plan."  The Fun Fun Fun Fest executive team  presented an engaging laser-guided Power Point
display where they explained in full details of the "trickle down effect" of fun.
The full lineup for the 5th annual Fun Fun Fun Fest to be held November 5 - 7, 2010 at Waterloo Park in Austin, TX. And, for the first year ever, a third evening has been added to the official FFF festivities. The festival will begin with a kick off event on Friday, November 5th at 6:00 with the one and only Weird Al Yankovic headlining, supported by his legendary one of
a kind production and show.
The Transmission Entertainment team went above and beyond with this yearís lineup, covering multiple genres of music spanning several decades with everything from the up and coming independent acts to comedians and big-
ticket progressive festival headliners, all while keeping ticket prices affordable and flexible. 2010 headliners will include MGMT, DEVO, Mastodon, Bad Religion, Slick Rick, RJD2, A-Trak, GWAR, The Hold Steady, Dirty
Projectors, and many more.
Early Bird tickets are limited to 1,000 fans and on sale now at a 10% discount for 3 day passes. That includes the 2 day weekend pass and the Friday night kick off event. You can purchase tickets online at funfunfunfest.com.
Founder of Fun Fun Fun Fest, Graham Williams had this to say about the line up: "This is our most diverse and creative line up we have ever put together. Our fans expect that we raise the bar every year, this is certainly no different."
FUN FUN FUN FEST 2010 COMPLETE SCHEDULE INCLUDES:
ORANGE STAGE:
Devo, MGMT, Weird Al Yankovic, Dirty Projectors, Hold Steady, Deerhunter, Man Man, Cap'n Jazz, WAVVES, Polvo, OS Mutantes, Ariel Pink, Kaki King, Dum Dum Girls, Appleseed Cast, Margot and Nuclear So and Sos, Best Coast,
Crocodiles, Toro Y Moi, Magic Kids, Junius, Woven Bones, Royal Forest, Indian Jewelry, Mother Falcon
BLACK STAGE:
Mastodon, Bad Religion, GWAR, Suicidal Tendencies, The Vandals, Dwarves, High on Fire, The Gories, Snapcase, Floor, Municipal Waste, Strike Anywhere, The Bronx, Ringworm, Valient Thorr, Jeff The Brotherhood, Kylesa, OFF!, The
Briggs, Power Trip, Eagle Claw, Peelander Z , Hatred Surge, Black Congress
BLUE STAGE:
RJD2, Slick Rick (performing "great adventures of"), A-trak, Yelle, Deakin (of Animal Collective), Delorean, Big Freedia, Designer Drugs, Dam- Funk, Dominique Young Unique, Devin The Dude, Invincible, Butcher Bear and Charlie, League of Extraordinary Gz, DJ Nick Nack, Pharoahe Monch, POS,Jean Grae, Black Nasty, DJ Bird Peterson, Crew 54
YELLOW STAGE:
Cold Cave, Monotonix, Mariachi El Bronx, Live Action Wrestling, Punk Rock Story Time with Joe Sib (spoken word), New Movement (live sketch comedy), Air Sex Contest (presented by Alamo Drafthouse), Live Stunt Show, Veggie Hot
Dog Eating Contest, Visual Assault Video Shows, Stand Up Comedy with: Matt Bearden, Altercation Punk Rock Comedy tour and many more tba
ABOUT FUN FUN FUN FEST:
Fun Fun Fun Fest booked its first set of acts in 2006 in downtown Austin, leading with the likes of bands like Spoon and The Circle Jerks…setting the tone for what would grow to be the darling of independent music festivals for music lovers and music makers in the United States for years to come. Now in it's fifth year, Fun Fun Fun Fest is known as one of the most relaxed, creative, and pioneering festivals in music today. Fun Fun Fun Fest is a fest that is custom booked for the most passionate underground and progressive musicians, comedians, and fans around the world.
Go to www.funfunfunfest.com for updates and to purchase tickets. You can follow the fest on Twitter @funfunfunfest for up-to-the-minute news, or you can become a Fun Fun Fun Homie on Facebook @ facebook.com/funfunfunfest
By Katie Warner
Austin Times Staff