Suite 709, Austin's newest band, has been compared to "John Legend meets The Jackson 5;" a fresh flavor with just a hint of vintage to round off a sound that stretches across several musical genres. Infectious rhythms, hooks that stick to your brain, and soulful vocals combine to produce a sound that moves through your body and makes you want to dance. The sound of Suite 709 is "a nod to several genres of musical influence, but definitely a fresh sound intended to make music lovers dance. Suite 709 is a tasty concoction of R&B, jazz, a bit of Rock, and a touch of Soul," says vocalist, Jirod Greene.
Comprised of two sets of childhood friends, the makings of Suite 709 began as early as middle school.  Vocalist, Jirod Greene, guitarist, David Butler, and bassist, Ross Falcon played together in one band, and then later merged with keyboardist, Dietrich Schmidt to create The Ars Supernova, which was named one of the "top 5 rated best new bands in Austin," In 2009, several of the members of The Ars Supernova began discussing with fellow friends and musicians the idea of creating "a sound that was reminiscent of Motown yet fresh and relevant to today's popular music scene."  Drummer, Zach Boston, had played in the band, Plane of Existence, with Dietrich prior to 'The Ars Supernova era.' and the horns section was composed entirely of friends that played with Dietrich and Zach in their high school band . . . and thus Suite 709 was born. Needless to say,  "all the musicians that comprise Suite 709 are fairly comfortable being on stage and performing with one another at this point," says Keyboardist, Dietrich Schmidt.
This level of comfort and familiarity is evident when seeing Suite 709 perform live.  Without having a single recording, logo, or band photo to their name, the group hit the ground running with their debut at SXSW 2010 which included four showcases, followed by a series of private shows.
Along with the launch of their new website, the band hosted a SUITE 709 UNLOCKED: AUSTIN "SUITE PARTY" #1 at the Parish http://www.youtube.com/watch?v=EhhQvTuhGFw .
While you can read reviews of the band and descriptions of the sound, it is difficult to capture in words, or for that matter, pictures that accurately depict a Suite 709 performance.
It is something you have to experience yourself.  Perhaps one of the reasons is because the lead vocalist, Jirod is by far the most animated performer I have seen or attempted to photograph.  The entire band seems to be constantly moving around, and enjoying themselves including Dietrich who at the time of their last performance, played flawlessly, even with a broken clavicle.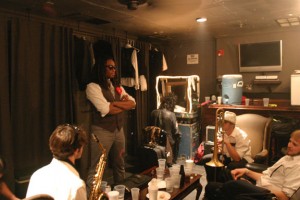 This seems only appropriate since the name "Suite 709" was selected because it "is a place we all go to share our ideas, write our music, and have a good time," says Jirod.   "Suite 709 is a new direction for all of these musicians and different from what a lot of bands are doing in Austin right now.  While 'Pop music' is almost a bad word in this city, Suite 709 embraces it as music that all people can enjoy, and more importantly dance to . . . music that makes people move."
By Katie Warner
Austin Times Staff