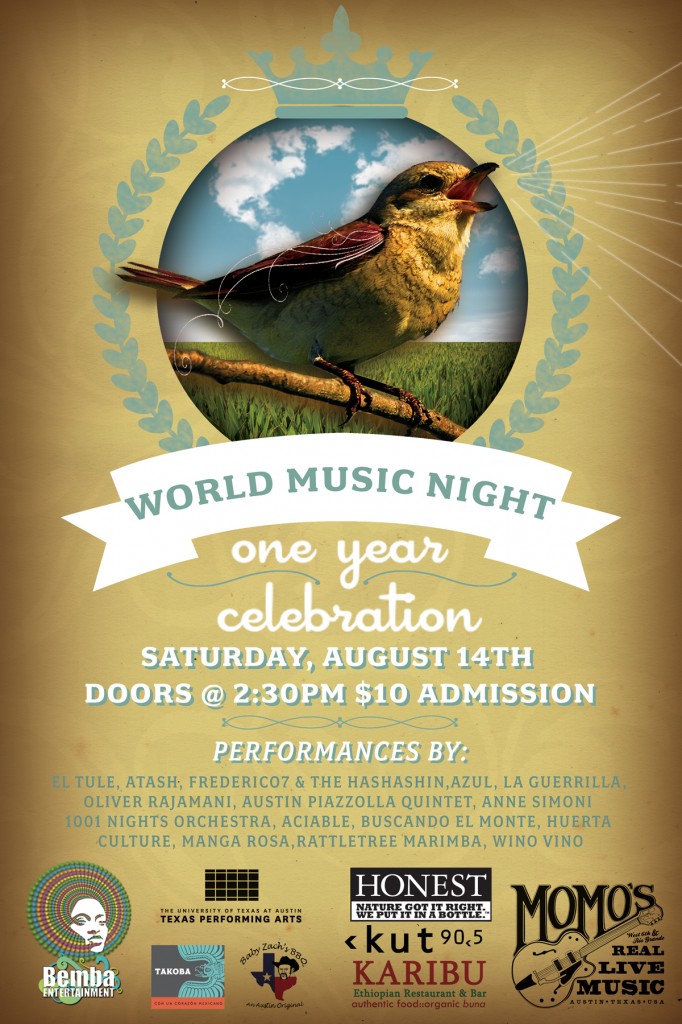 For one year now, Bemba Entertainment and KUT90.5/KUT.org have brought World Music Night every Tuesday to Momo's, giving Austin a chance to connect with cultures from all over the world through music.  Founded in 2007 by Brandon Badillo, Bemba Entertainment has been producing unique events inspired by the arts and multiculturalism.  World Music Night, one of the many events produced by Bemba Entertainment, supports local musicians in an often overlooked but growing music scene, and brings cultural awareness and diversity to the Austin Live Music Capital of the World.
"We want to allow people to experience different regions around the world through music without having to leave the city. By doing so with this series and other events, Bemba is well on its way to making Austin a World music Mecca," says Badillo.
On Saturday, August 14, 2010, World Music Night will celebrate its one year anniversary at Momo's located at 618 West 6th Street. Tickets are $10. This event is sponsored by KUT90.5/KUT.org, Texas Performing Arts, Honest Tea, and Baby Zach's BBQ.  Food by Baby Zach's BBQ, Takoba, and Karibu will be available for purchase.  The event is an all day family event starting at 3:00 pm and ending at 2:00 am.
"This is a beginning for what will become an annual world music festival.  Bemba Entertainment loves introducing local world-music bands to avid music fans.  It will be the best ten dollars you spent in supporting local musicians," says Badillo.
Join Bemba Entertainment in supporting, appreciating, and celebrating cultures around the world, August 14th at the World Music Night One Year Celebration.
Visit www.bembaentertianment.com or become a fan at www.facebook.com/BembaEntertainment for monthly schedules of World Music Night
World Music Night One Year Celebration Schedule
3:10-4:00         1001 Nights Orchestra
4:00-4:40         Buscando El Monte
4:40-5:20         Aciable
5:20-6:00         Huerta Culture
6:00-6:40         Manga Rosa
6:40-7:20         Rattletree Marimba
7:20-8:00         Wino Vino
8:00-8:40         Anne Simoni
8:40-9:20         Oliver Rajamani
9:20-10:00       Austin Piazzolla Quintet
10:00-10:40     La Guerrilla
1040-1120       Azul
11:20-12:00     Atash
12:00-12:40     Frederico7 & The Hashashin
12:40-2:00       El Tule
By Dulcenea Garcia
Austin Times Staff