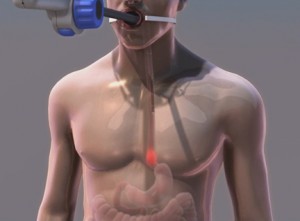 Cedar Park Regional Medical Center (CPRMC)'s general surgeon, Thomas Bening, M.D., is the first physician in Central Texas to perform the Transoral Incisionless Fundoplication (TIF) heartburn procedure in Central Texas.
This new, advanced procedure is used to treat people with severe heartburn or gastroesophageal reflux disease (GERD) and requires no incision- a quick, effective and long term solution for this condition.
"The TIF procedure can significantly improve quality of life for our patients." said Dr. Thomas Bening. "GERD is an anatomical problem which needs an anatomical solution. Reflux medication like PPIs (proton pump inhibitors) can help relieve patients' heartburn symptoms, but doesn't solve the underlying anatomical problems or prevent further disease progression. Even on PPIs many patients are still unable to eat the foods they want or have to sleep sitting up to reduce nighttime reflux."
"In addition, recent studies have shown that long term use of PPIs can lead to inadequate absorption of minerals such as calcium and can result in bone fractures.  After the TIF procedure, clinical trials show that most patients can eat and drink foods they avoided for many years.  Reflux no longer impacts their life like it previously did," continues Dr. Bening.
The TIF procedure is based on established principles of surgical repair of the antireflux barrier, except that it is performed transorally (through the mouth).  The procedure can help reduce hiatal hernia and create a valve between the stomach and esophagus restoring the natural, physiological anatomy to prevent gastroesophageal reflux.  Due to the procedure being incisionless, there is reduced pain and recovery time for most patients and no visible scarring.
With millions of Americans diagnosed with GERD and not fully satisfied with their treatment options, TIF offers an excellent alternative. "The TIF procedure is one of our newest additions to our expanding list of hospital services," said Tim Adams, CEO of Cedar Park Medical Center. "We are pleased to have Dr. Bening on our medical staff and provide this technological advancement to our patients."
By Monica Pena
Austin Times Staff