For many years I worked in north Austin and the Cool River Café on Parmer Lane was always a popular choice for lunch with a Sales Rep or Client. The restaurant and bar complex looks a bit like a Colorado ski lodge inside and out; tall ceilings, oil paintings, wood paneling and a large stone fireplace in the restaurant.
For a change, I recently had dinner at Cool River and was pleased on several fronts.  On a cold night, the restaurant was warm and comfortable, the food and wine were great, and the waiters were knowledgeable about the food preparation and very familiar with the extensive wine list.
Mostly having been for lunch, I hadn't realized that the wine list is a who's who of California, Wine Spectator favorites with a small but good showing of Burgundy and Bordeaux, some Italian stars like Ornellaia and even a couple of Amerones. Though the prices are commensurate with the quality, the upside was that this great wine list did not involve a drive downtown.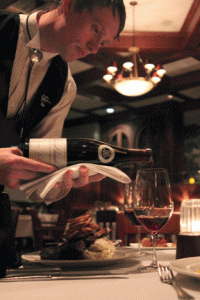 Though located firmly in suburbia, the Cool River Café manages to give all the style and quality that could be found in a downtown steakhouse like Sullivan's but without the traffic and parking problems.
My friends and I started our evening with cold glasses of Prosecco. It struck a nice note of celebration and went well with our appetizers.
I was reluctant to order the BBQ Bacon wrapped shrimp having had tough, over spiced versions at many events, but was amazed that the large shrimp were tender and the chipotle BBQ sauce was very flavorful, but still delicate.  Our other appetizer was pepper-crusted, seared Ahi Tuna. The fish was fresh and the wasabi and hoisin ginger sauces were great counterpoints.
We each tried the "III Forks" house salad of mixed lettuce, granny smith apple, Danish blue cheese crumbles, and a great maple-pecan vinaigrette. I asked for the dish without the cheese and still found it delicious.  It was also nice that the side salad was small and not the typical appetite killing portion.
Being particularly fond of lamb chops, I order them frequently, but until dinner at Cool River, I had never been served three racks of three chops each. They were nicely seasoned and perfectly cooked. The racks were served on mashed potatoes with a few spears of roasted asparagus and topped with fine shavings of quick fried carrot.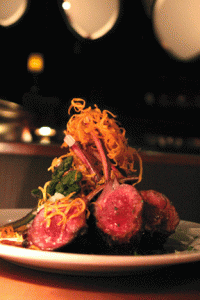 My friends ordered the Chilean Sea Bass which again was very fresh and the large Cowboy Rib-eye.
Because we were dealing with sea bass, steak and lamb as entrees, I opted for a bottle of Louis Latour Gevrey Chambertin 2005.
The color was deeper than usual for a Burgundy but the aromas were typical pinot noir leather with smoky, earthy undertones.  On the palate the wine was full bodied, black fruits and faint licorice. Though a little young, there was a nice balance in the mouth with soft tannins. The finish was long and (typical Burgundy) elegant.
We finished dinner with a trio of great desserts; Cool River's famous Makers Mark Pecan Bread Pudding, a nice Crème Brûlée, and our waiter Lucas put on a fine show with a flaming table side Bananas Foster.
If you don't get to Brennan's in New Orleans as often as you'd like, definitely try it here.
The interesting thing about Cool River is that ski lodge reference aside, dinner felt like a brief vacation; not quite Aspen, not quite Austin or New Orleans, but little bits of nice memories from each of those places.   
In addition to the restaurant, Cool River has a popular Sports bar with pool and good live music, and a separate and increasingly rare Cognac & Cigar Bar.
Cool River Café 'Steakhouse and Southwestern Grille' is at 4100 West Parmer Lane and is open every day of the week for lunch and dinner.  Special dining rooms and the cigar bar are available for private parties.
By Richard Arebalo
Photos by David Ventura Garcia