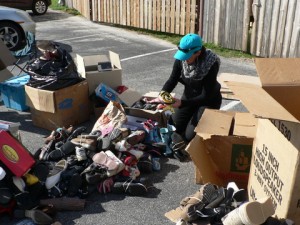 As a result of this year's Austin Chapter of the National Association of Professional Organizers (NAPO) clear your clutter day event and the 445 cars that dropped off items at Bethany United Methodist Church in support of Get Organized Month, several nonprofits received needed items.
Austin Groups for the Elderly received 30 items including wheelchairs and medical/mobility assistance devices while Dress for Success Austin obtained two carloads (approximately 300 items) of women's career clothing, shoes, and accessories. HeliOS Project collected 7900 lbs of cell phones, computers, and electronics, none of which will be added to the landfill. Settlement Home for Children (group that care for and promote the healing of troubled children and their families) gathered 26' U-Haul truck, 20' trailer, pick-up truck and 2 car trunks jam-packed with general donations to go towards their annual garage sale fundraiser. Charity that distributes shoes to people in need, Soles 4 Souls Drive, accumulated 450 pairs of shoes.
As an extra service to the public, Central Texas Secure Shred jam-packed two truckloads of paper to be shredded, EcoBox flattened an assortment of moving boxes, and JunkBusters USA hauled away three full truckloads of junk.
NAPO-Austin, one of the newest local chapters of the National Association of Professional Organizers (NAPO), consists of professional organizers in the Austin and the Central Texas area who are committed to providing education, support, and networking opportunities for each other, as well as promoting awareness of the organizing industry. NAPO was founded in 1985 and is the only non-profit national association of and for organizers, with nearly 4,000 members worldwide. 2012 Clear Your Clutter Day was the 6th year the group has provided this service to the Austin community.
For more information on the Austin Chapter of the National Association of Professional Organizers (NAPO): http://www.napoaustin.com
By Monica Pena