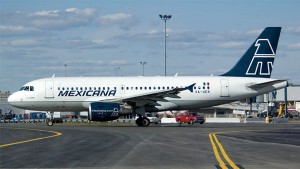 A Mexican judge has ordered an end to efforts to revive moribund Mexicana airlines through bankruptcy proceedings, saying no credible new investor had expressed interest in the carrier, officials announced Friday.
Before it stopped flying in 2010 because of financial problems, the privately-operated Mexicana was among the world's oldest continually operating airlines. It began flying in 1921, after carriers like Australia's Qantas and Colombia's Avianca.
Mexico's Federal Judiciary Council said the decision meant an administrator will be appointed to start selling off the company's assets to repay the airline's obligations.
The flight attendants' union said it would appeal the decision, which follows a torturous four-year bankruptcy proceeding. The company had about 8,500 employees when it stopped flying domestic and international routes that included the United States, Canada, South America and Europe.
Despite often desperate attempts by the unions to attract investors, none of those who showed up demonstrated they had the money or a business plan to rescue the carrier.
"Mexicana has ceased to exist as such, but of course we as unions will continue to appeal," said Claudia Rosales, the spokeswoman for the flight attendants' union. Following the bankruptcy, Mexico was left with one other legacy airline — Aeromexico — and several smaller, low-cost carriers.
But given the paucity of departure slots at the Mexico City airport, the nation's busiest terminal, the loss of Mexicana flights lessened competition on some routes. It also affected consumers' ability to choose among fares and flight options, Rosales said.
"Obviously, there has been an increase in fares, and we always argued that allowing a return of Mexicana de Aviacion would increase competition and benefit consumers," Rosales said.
There was a silver lining for former Mexicana employees.
The Transportation Department said in a statement that the main creditors had agreed to a deal on the airline's most valuable remaining asset, a Mexico City maintenance facility that still operates with about 1,000 employees. Revenues from that operation - or funds from any possible sale of it - will go into a fund for the unemployed workers and airline retirees.
The man who controlled Mexicana before it went bankrupt, Gaston Azcarraga, was recently charged with illegal use of the airline's funds. He remains at large.