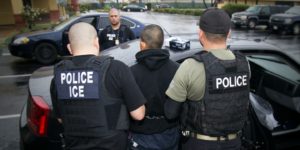 Over the last 30 days, federal authorities rounded up dozens of members of a violent California-spawned street gang in the New York City area, officials said Wednesday.
U.S. Immigration and Customs Enforcement announced that 39 members of the notorious MS-13 gang were arrested as part of the agency's Operation Matador, a program designed to combat transnational street gangs like MS-13.
ICE's Homeland Security Investigations New York and Enforcement and Removal Operations units recently launched Operation Matador with the Department of Homeland Security's Transnational Organized Crime Initiative as part of a unified task force against MS-13 and other gang activity in the New York City metro area.
Other law enforcement and immigration agencies, including U.S. Customs and Border Protection and the New York City Police Department, are also involved in the cooperative to counter a rising trend of transnational gang violence in the United States' largest city.
"These individuals are members of a violent street gang actively wreaking havoc in the community. This unified effort is about keeping New York citizens safe," ERO field office chief Thomas Decker said in a statement Wednesday. "[We] face no limitations in the apprehension and dismantling of transnational criminal organizations. We will not rest until our communities are safer."
"Gangs like MS-13 bring nothing but violence and conflict to our communities and their presence will not be tolerated," HSI New York special agent in-charge Angel Melendez added. "We will continue to dismantle these gangs piece by piece."
The cooperative effort is tasked with identifying, guarding against and investigating transnational border crimes with a concentration on MS-13 gang activity, ICE said.
Over the last month, the operation netted 39 members of MS-13 and six others affiliated with other gangs. Twenty of those arrested had existing criminal histories, officials said. The suspected members, all men, were from Mexico, El Salvador, Guatemala and Honduras.
ICE said in its statement that some of the suspected gang members had returned to the United States after being deported. Those who do not face criminal prosecution will be deported.
. The rest will go before an immigration judge to have their status determined.
Matador is part of ICE's Operation Community Shield, a 2005 initiative targeting violent gang members and gang activity. MS-13, one of the more violent U.S. gangs, was formed in Los Angeles in the 1980s and has since spread throughout the United States and North and Central America. More than 7,000 MS-13 gang members have been targeted by Operation Community Shield in the last 12 years, officials said.