Bomba Estéreo en Fuego: Interview with Colombia's rising stars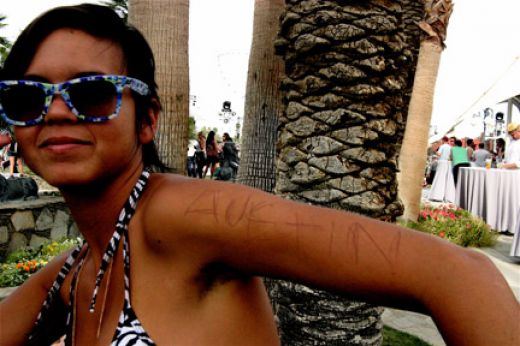 The first time I met Liliana, from Bomba Estéreo, was a few months ago in Indio, CA at Coachella. Paul Dryden, with Nacional introduced me to her, saying "This is Katie, from The Austin Times."
"AUSTIN?!?!?!," exclaimed Liliana, "I love Austin!!!!!"  She then grabbed my pen out of my hand and proceeded to write the word Austin on her arm. At that point, all I remember thinking was this chick is super cool!
We hung out briefly at the festival and then made plans to meet and do a formal interview with the entire band when they came to Austin for Pachanga Fest.
Since their U.S. debut, Blow Up (Nacional, 2009), Bomba Estéreo has literally done just that. The following that has been well established in Colombia for quite some time now, has reach the states and is spreading like wild fire.
This is quite impressive, since the band has only performed live in the U.S. a handful of times. Bomba Estéreo performed for the first time here in Austin during SXSW and most recently, at the Pachanga Fest Latino Music Festival.
I sat down with the band to get the story behind Bomba Estéreo.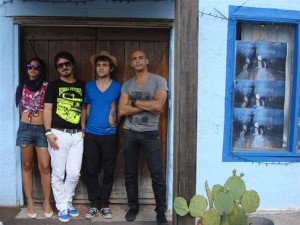 The Bogotá-based group originally started as a primarily instrumental band led by producer Simon Mejia.  After the release of their first album, Vol. 1 (Polen, 2006), vocalist, Liliana "Li" Saumet, joined the group, creating more of a "party" sound, thus the name Bomba Estéreo, which in Colombia means "a really cool, awesome, bad ass party," says Mejia. Soon after Liliana joined the group, followed Kike Egurrola on drums and Julian Salazar on guitar.
The band's biggest influences are Colombian folklorico and Atlantic Coastal meets electronic, African, especially from the 70's, and even a little hip hop and reggae. The rhythm is an important aspect of Bomba Estéreo's sound.
The band uses a series of percussion instruments along with maracas to create the Atlantic Coastal sound as a foundation in almost all of their songs and from there they build upon it.
"It all comes from Colombian roots . . . it's always good to see everyone dancing to the music, even when they can't understand the words, they can feel the rhythm, and you can feel the happiness in the air, and really that's what we're all about, the happiness," says Li.
Bomba Estéreo will perform two more times in the U.S., at Bonaroo in Tennessee and in Colorado Springs, both in June, at which point they will fly over to Barcelona to perform at Sonar Music Festival and then tour extensively in Europe the remainder of the summer.  Check out their MySpace page for updated performance dates later in the year.
By Katie Warner