NFL talks to female reporter about Jets behavior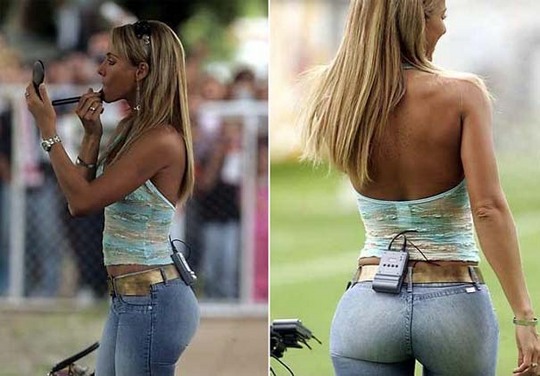 After a summer in the spotlight, the Jets are under scrutiny again.
The "Hard Knocks" stars are being investigated by the NFL for the way Jets players and coaches carried on when they were visited by a female reporter from a Mexican TV network during the team's practice Saturday.
Ines Sainz, of Mexico's TV Azteca, said on her Twitter account Saturday that she felt "very uncomfortable!" in the Jets' locker room, where a few players let loose with some "Whooo-weee!" catcalls as she waited with two male co-workers to interview quarterback Mark Sanchez, who is of Mexican descent.
"Of course you feel it when you are being stared at and when you are being spoken of in a certain way," Sainz told The Associated Press. "I opted to ignore it … I tried to not even pay attention."
She tweeted in Spanish on Saturday night that she tried "not to look anywhere!!"
"It was an uncomfortable moment because you are in the team's dressing room and they are obviously changing clothes, showering — doing what they do every day in the locker room," Sainz said to the AP. "So being a woman, obviously it was a bit uncomfortable."
Sainz also thanked supporters Monday on Twitter for their concern.
"I already spoke to the NFL and it will be up to them to decide whether or not there will be consequences!!" she tweeted.
Sainz was at the New Meadowlands Stadium on Monday night and had a seat in the press box for New York's season opener against Baltimore.
During defensive back drills on Saturday, Jets assistant coach Dennis Thurman seemed to deliberately throw to players near where Sainz was standing on the sideline. Even linebacker Jason Taylor, who normally doesn't participate in those position drills, went out for a pass.
At the end of the drill, head coach Rex Ryan threw a pass to Thurman, who caught it, ran toward Sainz and appeared to speak to her very briefly.
The Association for Women in Sports Media said a board member spoke to Jets general manager Mike Tannenbaum on Sunday about the reports. Also, team owner Woody Johnson spoke to Sainz, telling her "he expects all members of the Jets organization to conduct themselves in a professional manner at all times," Jets spokesman Bruce Speight said.
Sainz said she talked Sunday with NFL officials.
"I don't want to make it a bigger deal," she said. "I have confidence in the NFL and the Jets' management and I know that this will serve as a precedent so that this does not happen to another women."
TV Azteca promotes Sainz both as a journalist and as a model. The network's website includes photo collections of Sainz and has an article in its "Bad Girls" section headlined, "Inez Sainz, the perfect woman." The article describes her as intelligent and having a good sense of humor, and is accompanied by a photo of her in a skimpy bikini.
She has covered the NFL before, including at least a few Super Bowls. At a media event before the Super Bowl in 2009, she measured the bicep of Arizona Cardinals wide receiver Steve Breaston. The year before, she asked Patriots quarterback Tom Brady what it would take for New England to beat the Jets. The Pats actually were playing the Giants.
New York has been in the headlines all summer, from Ryan making guarantees about going to the Super Bowl to the team bringing in big-name players such as LaDainian Tomlinson, Jason Taylor, Santonio Holmes and Antonio Cromartie.
The story lines made the Jets a popular pick by HBO and NFL Films to be featured on their "Hard Knocks" series, which followed the team throughout training camp, offering an uncensored look at the coaches and players. Ryan was widely criticized by some fans and media, including former coach Tony Dungy, for what they considered an excessive use of expletives. The final episode aired last Wednesday, so NFL Films cameras were not at the practice Saturday.
AWSM and the Jets were working to schedule an educational and awareness session with the team, Speight said.
He addressed the situation during the team meeting Sunday night. The team also said it would work with the league to gather facts and "take any appropriate steps necessary to maintain a respectful environment for the media."
AWSM said in a statement Sunday night that the NFL and the Jets were "responsive to our concerns" and that it would continue to monitor the situation.
"We are awaiting the results of the investigation," the statement said, "and further action from the NFL and Jets."
By Dennis Waszak Jr., Ap Sports Writer

Posted by
admin
on Sep 14th, 2010 and filed under
Other News
,
Sports
. You can follow any responses to this entry through the
RSS 2.0
. You can leave a response by filling following comment form or trackback to this entry from your site