Dogwood's Grand Opening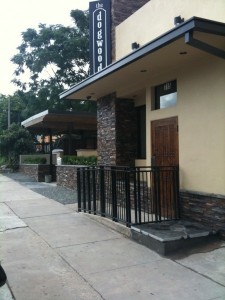 The Womack brothers and Jason Carrier (a.k.a "the other brother") are not new to the Austin bar industry. Having owned and run five venues within the downtown area, they have, with out a doubt, made their mark on the Austin night-life scene. I sat down with Christina Harrelson, to discuss what distinguishes Dogwood from the previously Womack/Carrier bars.
The bar's name, Dogwood was chosen because it was a favorite tree of the Womack brothers' grandmother. Having lived in Austin for over ten years, the owners consider Austin home, and wanted to create an Austin Landmark that provided a "southern hospitality feel, a place that whether you were dressed up or in flip flops you could feel at home and feel comfortable." Located on West 6th street, they wanted to create a relaxed setting for professionals to hang out after work; and so the bar caters to a more mature adult crowd than the previously owned bars. The music selection is also different from the other bars, with music chosen to give a "kick back, fun type of vibe versus a party scene type vibe." Additionally, Dogwood plans to bring in bands in the future that will continue to promote this chill-type atmosphere.
While it is a full stock bar both inside and out, the bar has a special focus on local owned beers and liquors. For example, Dogwood is currently, the only bar that serves Deep Eddy Vodka on ice cold tap.
Complete with 12 flat screens and a projector screen ready to use for game days, one can see the game from any angle of the bar. This is the first bar the Womack brothers and Carrier have built themselves. They began with several months of renovations to turn the former Mother Egan's pub into an establishment that provided a "timeless and classic feel." With the renovations, there was a priority in being as environmentally as conscious as possible. Therefore, much of the wood from the previously pub was recycled and reused in the construction of Dogwood.
Having started off as bartenders and barbacks on 6th street and working their way up, the owners of Dogwood have a strong desire and priority to give back to the Austin community, and so a % of their profits regularly go to various Austin charities and non-profits. Additionally, Dogwood has plans to sponsor several charity events throughout the year.
The construction for Dogwood was finished earlier than expected and so an impromptu soft opening was held on July 17th. However, mark your calendars for the official Dogwood Grand Opening on Wed. August 25th. Below is list of other upcoming Dogwood events that are not to be missed:
Dogwood Fashion Week Event – , August 19th
Tuesday Travel Austin Tweetup – Tuesday, September 7th
Bites and Beats – Thursday, September 16th
By Katie Warner
Austin Times Staff
Posted by
admin
on Aug 25th, 2010 and filed under
Event Listings
,
In This Issue
. You can follow any responses to this entry through the
RSS 2.0
. You can leave a response by filling following comment form or trackback to this entry from your site