The Souvenir Menu – Chianti Classico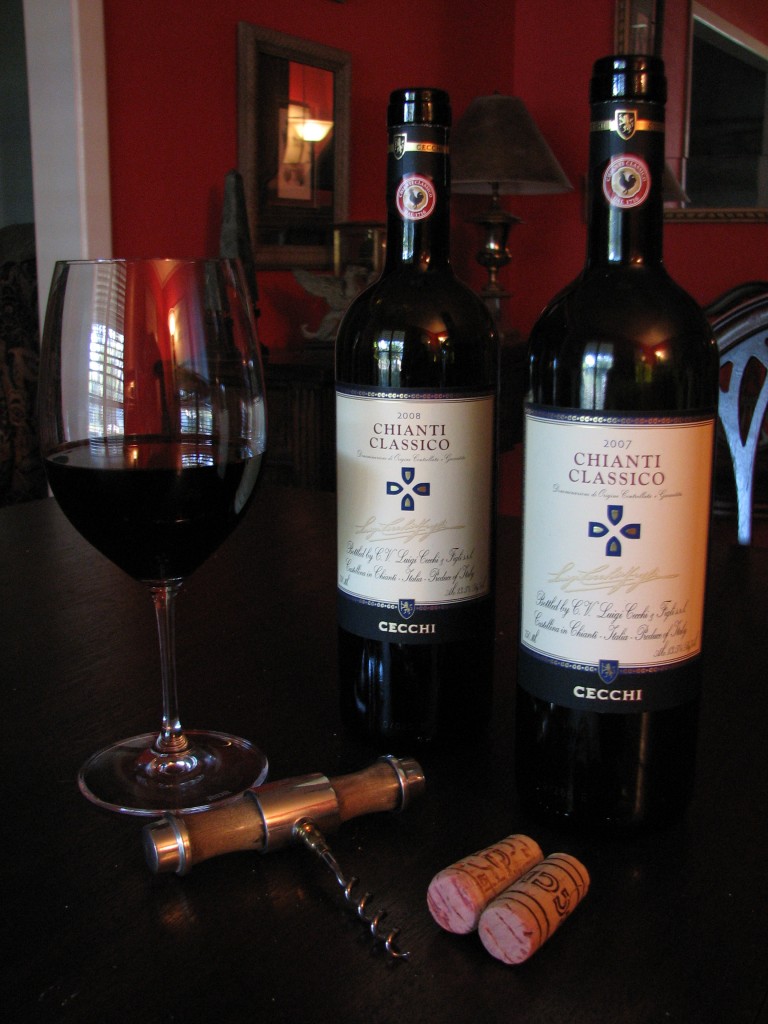 Years ago before I had made any real effort to know much about wine, I identified a Chianti in a blind wine tasting game simply because I thought it was awful. There was no pondering the aroma, no washing the wine over the tongue to catch the flavors.  I just said "gosh I hate this…..I think it's Chianti". It had a particular roughness that was easy to remember.
The problem was that even just 20 years ago, the general quality of Chianti was not very good.  Over the previous decades, primarily for economic reasons, Chianti had devolved into cheap and widely mass produced wine. The blends varied greatly between the red Sangiovese base, and the secondary white Canaiolo, Malvasia Bianca and Trebbiano grapes.  (By the 1950's some Chiantis had as much as 30% Trebbiano).
In the years since that tasting, Chianti the wine and the region itself have changed considerably. The region adopted stricter source designations, (DOC – for "controlled", and DOCG for controlled and guaranteed), and mandated uniform standards for the blends within the sub-regions.
Since 1996 the blend proportions for Chianti had been between 75 to 100% Sangiovese, up to 20% other approved red grape varieties (Cabernet Sauvignon, Merlot or Syrah) and up to 10% Canaiolo. However, since 2006, the use of white grapes such as Malvasia and Trebbiano has been prohibited all together in the Chianti Classico sub-region.
Ironically the great contributor to the overall improvement of the wines in the region was the popularity and sometimes stratospheric prices of the 100% red based "Super Tuscans". Though not officially designated Chianti under prior regulations (many contained Cabernet and other imported varieties), these cult favorites fueled the drive for quality throughout the region.
According to the most recent figures provided by the IWFI (Italian Wine and Food Institute), for the first five months of 2010, Italian wine continues to be the number one wine import into the United States.
Overall value is still there, but improved quality and enjoyment for the customers has certainly played part.
On several recent occasions to pair with Italian food, I've served a Chianti Classico called "Cecchi". It is widely available, relatively inexpensive and has been a great accompaniment to lasagna, pizza Margherita, Tuscan bean stews and even fajitas in a pinch.
The 2007 had medium tannins; medium acids and friends were able to identify tart cherry and plum in the taste. The aromas were smoky cedar and floral notes.  The 2008 had similar characteristics, but was a bit harsher than the 2007. Some storage or decanting can certainly help the experience.
This wine is a particularly good pairing with Italian pasta (red sauces) and has enough weight for beef dishes.
Cecchi - Chianti Classico is available locally at HEB for about $14.00.
By Richard Arebalo
Austin Times Staff
Posted by
admin
on Sep 23rd, 2010 and filed under
Food & Lifestyle
,
Reviews
. You can follow any responses to this entry through the
RSS 2.0
. You can leave a response by filling following comment form or trackback to this entry from your site