The Souvenir Menu – North by Northwest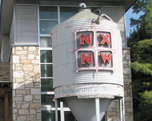 Over the past couple of weeks, I've had about six meals at North by Northwest. I've had a couple of brunches, a couple of dinners, one lunch and some drinks and appetizers.
This frequency wasn't due to a lack of creativity; but mainly because the folks here tend to do something a bit uncommon; they manage to do many things well.
I'd be the first to admit many of my favorite restaurants in town excel at a narrow range of dishes.  The dishes they do well, I love, and I can be a very devoted; but straying from them can sometimes lead to a mediocre meal.
NXNW located at Loop 360 about two blocks north of US 183 seems able to supply many good dishes throughout their menu, and often have specials that I wish would stick around.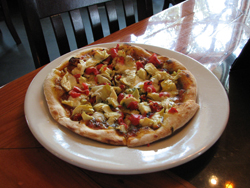 Starters like fried calamari, spinach artichoke dip and grilled bacon wrapped Quail go well with many of the beers brewed on the premises.  A variety of salads like their Field Greens with apples and walnuts, Basil Arugula with orange slices and their house Caesar are great openers for many of their entrees.
The restaurant's standards usually include several pasta dishes, grilled salmon, steaks, pork and game birds. Most of the dishes tend to be good sized and flavorful.
Lately I've enjoyed their wood fired Artichoke Pizza, a Tri-Tip beef special with a great arugula salad, several of their appetizers, and really great migas and potatoes (brunch only).
While no place is perfect, most of the time, the consensus at the table is that the food is just plain good.
In addition to that good food, NXNW is a working micro brewery. Visible as you walk in the door are several large gleaming copper brewing tanks. Chief brewer Kevin Roark tells me that throughout the year they typically make about five in-house standard varieties, and several popular seasonal specials.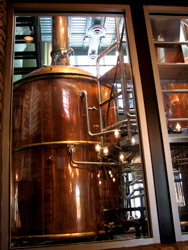 Their current line-up consists of; the 'Northern Light', true to it's name, golden and crisp, the more complex 'Py Jingo Pale Ale', a creamy 'Duckabish Amber', a dark malty 'Okanogan Black Ale' and a traditional wheat 'Bavarian Hefeweizen'. The special in the coming weeks will be an India Pale Ale. (Kevin is still working on the official tongue twister name)
Eleven years ago, Davis Tucker, opened NXNW with hopes of brewing beer inspired by German classics along side good hearty food.
A loyal following evident most days in the bar and restaurant say he succeeded.
NXNW is open 7 days a week and all their NXNW Brews are available for take home.
By Richard Arebalo
Austin Times Staff
Posted by
admin
on Oct 26th, 2010 and filed under
Food & Lifestyle
,
Reviews
. You can follow any responses to this entry through the
RSS 2.0
. You can leave a response by filling following comment form or trackback to this entry from your site