The Souvenir Menu – Cipollina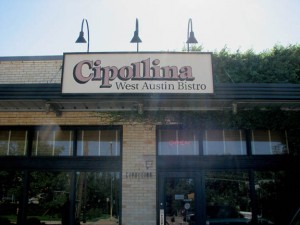 For Clarksville residents in central Austin, great food within walking distance has been the norm for decades. Jeffrey's, long considered one of the best restaurants in the state has been at 12th and West Lynn since 1975.
For Austin Restaurant Week recently I visited Jeffrey's sister restaurant, Cipollina, about a half a block away. Though this casual Mediterranean styled restaurant has been in business since 1999, some big changes have happened this year.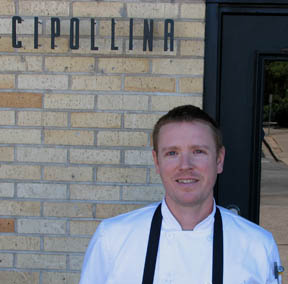 New chef, Daniel Hunt, a 32-year-old graduate of the Texas Culinary Academy here in Austin, and general manager Jonny Humble have elevated the popular neighborhood sandwich and pizza place quite a few notches with table service and the addition of many inventive twists on bistro classics.
Cipollina focuses on local produce and meats as much as possible; but what was once a special "farmer's dinner" featuring local produce has now turned into a guiding philosophy for the restaurant.
While their thin crust wood fires pizzas are still considered some of the best in Austin, the frequently changing menu contains less usual items like Harissa (North African chile) Chicken, rabbit, octopus, various tartare offerings and excellent desserts.
From the restaurant week menu I had the Antelope Tartare, a generous round of flavorful minced meat, capers, and tiny diced shallots topped with a quail egg. Served with Dijon mustard, micro greens and fresh toasted bread, it was rich and a great riot of flavor. The tartare was paired with a 2009 Casal Garcia Vinho Verde Rose. The wine was a beautiful apricot coral color that would probably stump most drinkers before tasting it. The light tartness in the wine balanced the richness of the meat and egg yolk and worked well with the mustard and capers.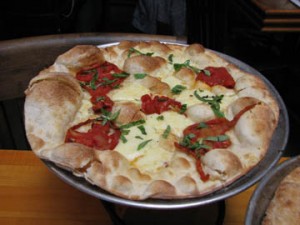 For the second course, I chose the Duck Confit Tortellini in a light herb garnished consommé. At first sight I thought the course was a little light, but the delicate look was deceptive. The duck filled pasta together with the consommé was very satisfying. A few strips of pickled daikon was also a brilliant addition. The Domaine de la Pépière Cab Franc at first seemed an odd choice, but again had been well thought out. Alone, the wine was jammy and very fruity, but the fruit quality was well balanced by the savory duck and herbs.
Dessert was a winner; ginger spiced cake à la mode with caramelized pear. Though I was full at this point, not a scrap of this was left over. My dinner guest was also kind enough to share some of the best chocolate pot-de-crème that I have had in years. It was very full flavored and perfectly smooth.
Cipollina still does sandwiches at lunchtime, and their pizzas are available for lunch or dinner, but the clear message is that some very good things are happening at this little neighborhood restaurant.
Cipollina is at 1213 W Lynn St in Austin's Clarksville neighborhood.
By Richard Arebalo
Austin Times Staff
Posted by
admin
on Sep 29th, 2010 and filed under
Food & Lifestyle
,
Reviews
. You can follow any responses to this entry through the
RSS 2.0
. You can leave a response by filling following comment form or trackback to this entry from your site