Just how "Multicultural" is Austin?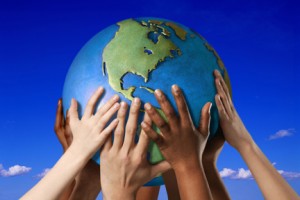 As a multicultural newspaper, The Austin Times has a responsibility to report on ethnic change and diversification in the city. While this is fairly common among job-rich, financially stable cities in the US there is the sentiment that Austin is different. It may not be as diverse as other cities, even in Texas, but there is a sense in the streets, in the healthy number of local businesses and the general optimistic outlook shared by Austinites that this is a unique place to be.
But what makes up that uniqueness? What are the working parts which make up the image that is Austin?
A little bit of internet research will tell you that Austin consistently tops Forbes' lists for best city for jobs and fastest growing cities in the US, that it ranks 11th according to the Brookings Institute's latest assessment of the economic performance of metropolitan cities, and it is a young city, with a median age of 31 and over 70% of the population between the ages of 18 and 65.
Analysts determine that more than 170 people move to Austin every day despite it being the most expensive city in Texas to buy or rent a home in. With all this boom and bustle, what role does multiculturalism have in all this?
Multiculturalism is a word that, for some of a certain political persuasion, is indicative of a radical liberal agenda; ideological jargon used to simply exaggerate class tension, damn free enterprise and promote a new socialism. In a more sensible, global and theoretical perspective it is a concept by which one can analyze an urban environment.
It must be pointed out that there is a conceptual difference between "multicultural" and "multiculturalism," where the former is a demographical variable and the latter an ideological one. In this sense multicultural denotes diversity, but diversity is not the same as multiculturalism.
As a political philosophy it's about finding the best way to respond to cultural and religious diversity, more than the mere toleration of group differences and egalitarian acknowledgment. Simply put, there is a difference between social function and attitude just as there are different shades of diversity.
While nearly fifty percent of Austin's population is still white, cultural diversity is steadily on the rise.
The city is no longer a majority-minority city as now no ethnic or demographic group exists as a majority of the city's population.
The growth of ethnic groups has now surpassed the growth of white households while the smaller slices of the demographic pie are becoming more diverse. For instance, when looking at the Asian sub-population, we see that it spans the socio-economic spectrum and is mainly comprised of Indian, Vietnamese, Chinese, Korean, Filipino and Taiwanese origins.
While the University of Texas was historically responsible for most of the share of the Asian population, more of this sub-population flock to Austin for new business opportunities, available loans and real estate. The City of Austin's Planning and Development Review Department (PDRD) projects that by the middle of the next decade the number of Asians in Austin will far exceed the number of African Americans.
The Hispanic community comprises roughly 35% of the city's population, which rivals the Anglo share. Like the Asian demographic, Hispanic households are socio-economically diverse, attracting families from elsewhere in Texas with high-tech and trade sector jobs, and international immigrants to construction and service jobs. This predominant influx of Hispanic families into Austin, with their higher-than-average household sizes and more children per household is directly correlated to the city's median age. Hispanic communities are replacing older African American communities as household clusters continue to transition to the outskirts of the city.
This is no surprise as the African American population continues to wane, potentially becoming the smallest minority with 5 % of the city's population in just a few decades.
The East Austin erosion over the past 20-30 years has pushed African American households into the suburbs which further disperses once cohesive communities often bound together by a church. While there is still a draw to original houses of worship, there is a noticeable decline in community outreach and care programs promoted from within.
Beyond statistics multiculturalism is about cultural life, the expression of it and its achievements. Austin holds promise in this regard but is mere attitude enough?
Using multiculturalism to characterize all the moral and political claims of disadvantaged groups is a slippery slope when applied beyond theory to real-life situations because the choices, claims and identities involved are vastly different. In a dynamic city such as Austin there are disadvantaged groups around every corner, some seeking recognition, some redistribution. Critics of multiculturalism argue this point, noting the disconnect between challenging status inequality by seeking cultural and symbolic change and challenging inequality and exploitation by economic restructuring.
For example, working class social movements focus on redistribution while the LGBT movement focuses on recognition.
Can too much focus on culture and identity divert attention from or undermine policy building? Redistribution and recognition are both important elements of multiculturalism but where does Austin fall on this spectrum? Is there an equal share? As a city is it truly striving for greater equality, or simply acknowledging certain groups and absorbing them into a cultural image by way of symbolic inclusion, thus commodifying not only civic duty but the cultures themselves?
The motto "Keep Austin Weird" - originally intended to promote Austin's eccentricity and diversity, support local independent businesses and fight commercialism and over-development – is, in many ways emblematic of recognition diversity. Indeed a friendly, accepting and tolerant culture is necessary to maintain lifestyles that are not mainstream but again, there are two sides to the diversity coin.
In a mostly conservative Texas, Austin stands out as a liberal and progressive haven, yet while most votes are for Democrat, the values of many ethnic minorities, African-American and Hispanic in particular, are much more conservative than their Weird counterparts. Critics of the slogan call attention to the fact that it was trademarked in 2003 and question how a commercialized slogan can promote an anti-corporatism and independence without running the risk of fetishizing an entire sub-culture.
In promulgating its own distinctive culture Austin must be wary that in this pursuit it does not simply reinforce or strengthen existing power relations and social hierarchies that may further marginalize the groups that make this city unique. A culture is never a self-contained whole, it is built upon a differentiated web of political and economic relations, influenced by commerce, industry, migration, and conflict.
The issue is how to share our daily lives with our fellow citizens directly, rather than interacting with a system that may only serve to perpetuate symbolic domination. Cultural hybridity is important for a growing city; the social movements and local culture must reinforce and sustain its authenticity. Austin is becoming a more divided city in terms of income disparity, cultural attributes, linguistic characteristics and political persuasions but the biggest draw is its quality of life and Austin's diverse demographic structure must reinforce and sustain that quality.
By Sam Chapman
Austin Times