Single in Austin: Hello Austin!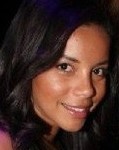 I am a twenty-five-year-old Puerto Rican/combat veteran/student/photographer/ divorced single/curvy girl-trying-to-fit-in-a-skinny-jeans-world living in Austin. I have been here for three years now and I absolutely love this place! The people, the dog-friendly atmosphere, the food, the  music, the arts, the nightlife, and the long-haired boys. I have been single on and off for the last three years. I am happy being in a relationship, and I am even happier when I am not in one.
My mother worries sometimes. She thinks I should be married with children and living right next door from her. Excuse me, but I have dreams and goals for myself. I left that little town I grew up in and I ain't never coming back. Just kidding. I love that little hell-hole even when I was in a witchcraft trial for most of my high school years simply because I listened to heavy metal. What would be of the world without those small town mentalities? A better place?
Who am I? Maybe I am the curly-haired girl you saw last night walking while smoking a cigarette. Maybe I am the girl you saw at a bar and thought was wearing too much makeup. Maybe I am not. I don't like labels or categories. How do you know which box you belong to? At this age anyway. I don't like to limit myself because how else do we learn?
That, and I am the most indecisive person I know. Vintage queen or designer whore? Young boys or older gentleman? Café con leche or vanilla latte? The choices are endless and I want it all!
I am not a dating guru by any means. I don't always know what's best. In fact, I would say I probably don't know anything. But I am always learning with a smile on my face. When life gives me lemons, I usually turn them into delicious margaritas and drink them with my friends. That's just how I roll.
I've always been told that I need to share my stories. God bless my married friends. They always seem to think my (dating) life is exciting. So this is my intention, to share my stories. My lessons. The good, the bad, and the dirty.
Besos,
C.J. in the City
Posted by
admin
on Jan 29th, 2010 and filed under
Arts & Entertainment
,
In This Issue
. You can follow any responses to this entry through the
RSS 2.0
. You can leave a response by filling following comment form or trackback to this entry from your site