Eva Guzman for Texas Supreme Court Place 9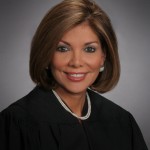 Justice Eva Guzman was appointed to the Supreme Court of Texas by Governor Rick Perry on October 8, 2009.  Before her appointment, Justice Guzman served as an Associate Justice on the Houston-based Texas Fourteenth Court of Appeals.  A three- time gubernatorial appointee, she has served in the Texas judiciary for more than a decade, first as a trial court judge in Harris County Family Court and then as a member of a nine-justice appellate court that serves a ten-county area. While on the trial bench, Justice Guzman disposed of more than 5000 cases in three years.  Since her elevation to the appellate bench in 2001, she has ruled on over two thousand civil and criminal appeals and original and authored hundreds of published opinions covering a wide range of civil and criminal law topics, including issues of first impression and cases submitted for en banc review. As a hard working judge on one of our state's busiest courts, she consistently has received high marks in judicial evaluation polls.
Justice Guzman strictly adheres to the conservative judicial philosophy, which is marked by the belief that judges should interpret the law as it is written and leave policy-making decisions to the executive and legislative branches of government.  Justice Guzman believes that for too long, certain legal rights or restrictions have been unrightfully suppressed or extended by loose interpretations of the law and by breakdowns in the process of judicial review.
Justice Guzman has been recognized by many law and community organizations for her service on and off the bench. This year the Hispanic National Bar Association honored Justice Guzman as "Latina Judge of the Year." The Mexican American Bar Association of Texas Foundation also has recognized Justice Guzman for her many contributions and awarded her  its "Judge of the Year award." Two local law enforcement organizations, P.O.L.I.C.E., Inc. and Houston Police Officers Union, have selected Justice Guzman as "Appellate Judge of the Year" in prior years.  In October 2009, Justice Guzman was selected by the Hispanic Women in Leadership organization as one of its "100 Hispanic Women in Leadership," recognizing her contributions as an "Outstanding Hispanic Community Leader." In 2006, Texas Executive Women presented Justice Guzman with a "Woman on the Move" award in recognition of her professional and civic accomplishments.
Posted by
admin
on Feb 26th, 2010 and filed under
Uncategorized
. You can follow any responses to this entry through the
RSS 2.0
. You can leave a response by filling following comment form or trackback to this entry from your site