The Souvenir Menu: Salad Niçoise with a Malbec rosé
In the book "A Year in Province", Peter Mayle explains that in France, even the simplest questions on food can become a twenty minute plus discourse-or even an argument-about the correct ingredients and method.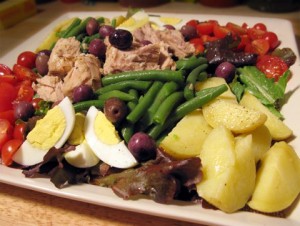 Such was the case with one of my favorite summer meals, salade Niçoise.
I had always accepted that the salad that I loved included lettuce (the French debate the type), new potatoes (some say "never!", some say sometimes), tinned tuna (in oil versus not in oil), haricot verre (thin green beans, but only crisp and in the Spring), hard boiled eggs (waiting on arguments), niçoises olives (AOC, Appellation d'Origine Contrôlée, meaning it must come from that specific geographic region, a must) and a Dijon vinaigrette. Later, I found that "true" versions of the salad also include raw red peppers, (no….green!), anchovies, shallots, and artichoke hearts (but only if young, and in season).
Finally, the dressing; it should only be made with Dijon mustard, crushed garlic, salt, pepper, olive oil,  and red wine (no, white!)
In any case, the salad popularized in the United States by Julia Child, and now found in restaurants across the country, is a terrific summer meal. It is substantial enough to be filling, but will not bog you down for hours.  The variety of textures and flavors is also a big part of the enjoyment.
Memorial Day was short on open restaurants, so I decided to make the salad at home for friends. I included a mesclun salad mix, boiled red potatoes (yeah, yeah "un crime de goût"), sliced tomatoes, haricot verre, niçoises olives, hard boiled eggs, tuna in oil (Central Market has an upscale brand, but a good standard brand is fine), and I made the vinaigrette with aged white vinegar.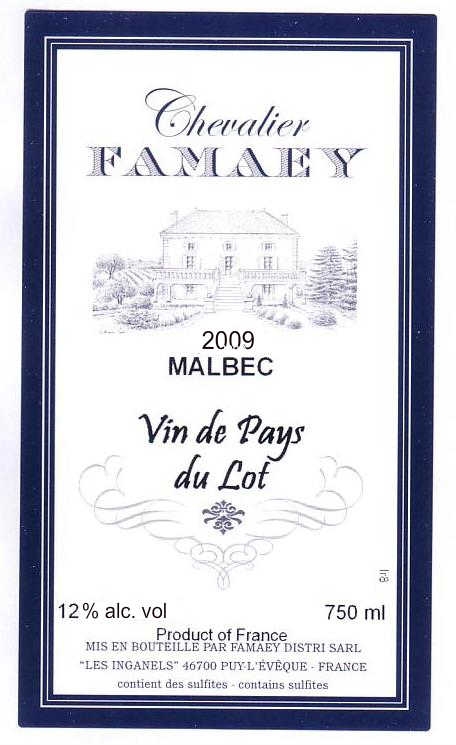 For the wine, I wanted something different than the usual chardonnay or Sancerre. Andy Christiansen at Central Market recommended a really good Malbec rosé to go with the salad. The 2009 Chevalier Famaey 'Vin de Pays' du Lot was dry with just a hint of sweetness, and had a nice tart apple and strawberry taste. It complimented the tuna and the other ingredients really well, but also did not fight the vinaigrette.
At right around ten dollars, this rosé is a really good value for casual drinking. Loftier French rosés tend to be in the fifteen dollar range and can go much higher.  The Chevalier Famaey will be a good wine to keep around this summer.
If you decide to commit a "crime against taste" and use potatoes in the salad, use small red potatoes cooked 'till tender. Cook the haricot verre in boiling water for about 3-4 minutes. When ready, dunk the potatoes and the green beans in ice water to prevent further cooking. The potatoes should be tender and not mushy and the beans should still be a bit crisp.
In Austin, you can find a Salade Niçoise on several menus, including; Fino, Asti (called Salad Nizza), Justine's, Zax, and many other restaurants and cafes in town. All should be good, and no two will be alike.
I've included a couple of links below to a few good versions of this salad.
http://www.epicurious.com/recipes/food/views/Salade-Ni-oise-15533
http://www.nicerendezvous.com/car/200908023466/actu-n-1335.html - French site from Nice.
By Richard Arebalo
Posted by
admin
on Jun 4th, 2010 and filed under
Food & Lifestyle
. You can follow any responses to this entry through the
RSS 2.0
. You can leave a response by filling following comment form or trackback to this entry from your site