Fitness fair focuses on combating Hispanic obesity trend
The largest gathering of sports and fitness groups in Central Texas is mobilizing this Saturday, July 17, to inspire Hispanic families to lead healthier lifestyles. Athletes from the Austin Aztex, the Austin Toros, the Round Rock Express, and the Texas Stars, along with 150 fitness guides, wellness specialists, counselors, and non-profit representatives, will be at the Fitness Feria to help encourage children to get active.
Hispanics are the target of this fitness fair because they are disproportionately affected by obesity. Research from the Centers for Disease Control and Prevention shows that Hispanics had a 21 percent higher obesity prevalence compared with whites. Obesity-related diseases such as diabetes, heart disease, and other illnesses run high in the Hispanic community.
The problem is that this community is difficult to reach because they are typically low-literate and from Spanish language-dominant families.
The focus of Fitness Feria is on education and sports participation. Based on their research, event organizers determined that an aspirational approach would work better than a text book approach to inspire behavior change.
"The goal is to train Spanish speaking parents how to navigate our sports system [in the United States] so they can guide their children's fitness lifestyle through school," said organizer Oné Musel-Gilley. "If we can get families excited and informed about sports, ultimately we will have healthier hearts and lifestyles."
The producers of Fitness Feria are the same ones that put on Feria Para Aprender (The Learning Fair), which focuses on educating Spanish-speaking parents on the US education system, promoting a college-going culture, and encouraging children to remain bilingual. This four-year-old mobilization event has been successfully replicated in Los Angeles, with other cities in the works.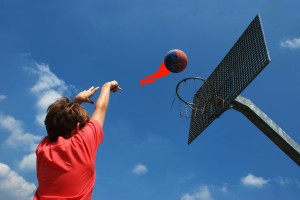 Much like the learning pathway at Feria Para Aprender, parents and children attending Fitness Feria will navigate through an "Olympic pathway" of hands-on sports demonstrations and exhibits as they learn the essential physical activities at every age level, from infant to teenager (the ABCs of Movement); where to connect with free sports camps, training, and fitness activities in the area; how to get athletic mentors and scholarships; and the importance of practice, mental discipline, and healthy lifestyles to achieve success in sports and fitness.
More than 20 sports and fitness activities will be demonstrated to families, including cycling, kayaking, football, cheerleading, ballet, golf, running, and more. The event also features hands-on practice activities between parents and children with coaches, athletes, and mentors.
Sponsors include City of Austin, YMCA, RunTex, LiveStrong, Greater Austin Hispanic Chamber of Commerce, St. David's Health Foundation, Seton Family of Hospitals, and the Michael and Susan Dell Foundation, among others.
Big strides have been made since the initial planning of Fitness Feria. The City of Austin wants to make this their signature Parks & Recreation program next year and is participating in a big way on Saturday. Central Texas non-profit organization Any Baby Can has hired two staff people to start implementing the "ABCs of Movement," a main feature at the Fitness Feria.
The Fitness Feria takes place this Saturday, July 17, from 8am to Noon at the Toney Burger Center (3200 Jones Road). For more information, visit www.fitnessferia.com.
By Vicky Garza
Posted by
admin
on Jul 14th, 2010 and filed under
Community
,
News
. You can follow any responses to this entry through the
RSS 2.0
. You can leave a response by filling following comment form or trackback to this entry from your site