The Souvenir Menu – Thai Cuisine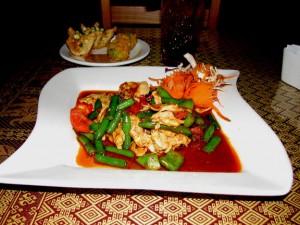 The majority of the restaurants that you find in the Souvenir Menu are the tried and true; places I really like and been to many times.  Sometimes it's not an old place, but one that I've visited so often that it makes the cut.
'Thai Cuisine' is a modern, casual restaurant in a small shopping center on Parmer Road in North Austin.
The dream of an enterprising accountant and a very good chef (Woody W. and Siri B.), Thai Cuisine opened a little over a year and a half ago, and has developed a very loyal clientele.  It has become a virtual defacto cafeteria for many of the high tech companies in the area. On any given day you can see whole tables of colleagues, often the same group you saw together the week (or day) before.
At lunch time Thai Cuisine provides a buffet, but rather than entrée selections, the buffet consists only of soups, appetizers, select salads and a dessert.  The buffet comes with a made to order entrée.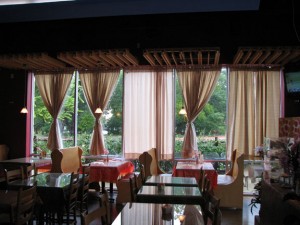 There are nearly 50 different main course choices; traditional curries, noodle and rice dishes, many of which can be customized with chicken, pork, beef or tofu in addition to fresh seafood and vegetarian items.  Well known soups like Tom Ka with chicken and coconut milk and Tom Yum are usually present as are wonderful purple rice or colorful tapioca desserts.
Thai food is all about big and aromatic flavors.  Most recipes will include generous use of fresh herbs like cilantro, lemon grass, Thai basil and mint. The basis of many dishes will include; ginger, tamarind, garlic, onion, peppercorns, kefir lime leaves and most definitely chilies.
Thai food can rival the hottest of Mexican or Indian foods (but generally only upon request).
Appetizer favorites here are the 'wild flowers', fried wonton "flowers" with spiced cream cheese and crab in the center and judging by the rate at which they disappear, the fried "mix rolls". These are fried soft spring rolls served with a special mix of sauces.
My favorite entrée at Thai Cuisine is the 'Kings Curry' or Pad Prik Khing which literally means 'chili ginger'.  I usually choose the chicken which is stir-fried with red and green bell peppers, and infused with dried red chilies, ginger, garlic, lemongrass, and strips of kefir lime leaves.  It is intensely flavorful (though not particularly hot) and is served with good steamed rice.
Thai Cuisine is comfortable, attractive and with good service, a great choice for lunch or dinner.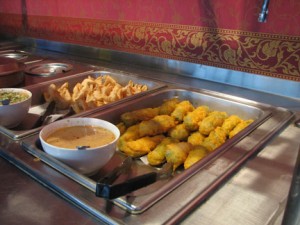 By Richard Arebalo
Austin Times Staff
Posted by
admin
on Sep 12th, 2010 and filed under
Food & Lifestyle
,
Reviews
. You can follow any responses to this entry through the
RSS 2.0
. You can leave a response by filling following comment form or trackback to this entry from your site