The Souvenir Menu – F&D Foreign and Domestic Food and Drink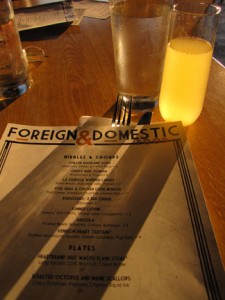 Story has it that the Chefs from Lyon France considered themselves better than the rest because in their estimation, anyone could make great food from the greatest of ingredients while they could make even a pig's ear taste great.
Because of some of his uncommon menu items, and his training under some very great Chefs including Alain Ducasse, I asked F&D Chef Ned Elliott if that was in any way related to the way he approached his menu.
To my very pleasant surprise the Lyonnais bias didn't come into play at all. Ned told me that it was a function of his upbringing. His adoptive parents regularly cooked with rural ingredients; remembering when he'd had the realization that his bologna sandwiches were actually beef tongue; other organ meats…no big deal.
There was no pretension here, Ned cooks what he loves, and with good reviews from the NY Times, other Metropolitan food critics, and the crowds at his restaurant, people seem to love what Ned cooks.
Chef Ned Elliott and his wife Chef Jodi Elliott (who is responsible for all the great breads and desserts) come with impeccable credentials, but their common approach is cooking from their early family experiences enhanced by expert CIA training and their tenure at fine restaurants and classic hotels.
F&D opened its doors just a few short months ago, but has already become a Mecca of sorts for foodies looking for a unique fix in Austin.
Ned's menu changes seasonally and always contains items that may at first challenge diners but then hooks them with layers of intense flavor, textures and colors.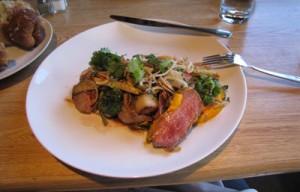 I've been to F&D a few times now, sampling some new items, but savoring some a few times more before they're gone.
Each time we've started with F&D's famous popovers – warm, really big and wonderfully flavored with gruyere cheese.
Ned has also taught me that I now love beets – roasted and pickled in house, I couldn't get enough of the nutty, slightly tart red nuggets in a salad of arugula, balsamic onions and Bottarga (delicacy of cured fish roe).
Friends and I have followed this up a couple of times with little pots of smooth Foie Gras and Chicken Liver moose topped with a Port Gelée, hazelnut crumble, and served with toasted dark rye.
While it's available I definitely recommend the Wagyu Flank steak; best served medium rare, it comes layered with carrot butter, flavors of cardamom, chili, broccoli florets and long squash. The Napa 2008 Conn Valley Prologue Cabernet Sauvignon works really well with this.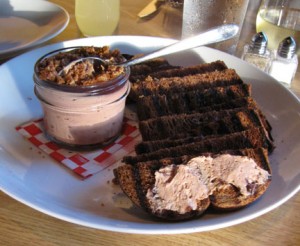 It's best to always leave a little room for dessert. Chef Jodi has been wowing with sophisticated versions of Carrot Cake (Sundae), classic Fig and Apple Strudels (with pomegranate ice cream!) and to meet Ned's challenge even a Bacon Root Beer Float!
While Austin has many really good restaurants, F&D has changed the field a bit. With their level of creativity, Ned and Jodi are offering great food that is genuinely unique.
By Richard Arebalo
Austin Times Staff
Photos by Elle Greene
Posted by
admin
on Nov 4th, 2010 and filed under
Food & Lifestyle
,
In This Issue
,
Reviews
. You can follow any responses to this entry through the
RSS 2.0
. You can leave a response by filling following comment form or trackback to this entry from your site