2012 Buick Regal: Sleek and shapely design
When Buick restored the Regal nameplate to its lineup last year, it probably threw traditional sedan shoppers for a loop. Looking for something big, rear-driven, and powered by an eight-cylinder engine-or even a V-6?
A new GS flavor rounds out the 2012 Buick Regal menu, and leaves an even sweeter taste in our mouths.Not this time. The latest Buick Regal is front-drive, and gets its power and finesse from knockout styling, a Euro-sized package and handling, and a lineup of three four-cylinder engines, two of them turbocharged. It's a Buick in the new idiom, and a good complement to the lovely LaCrosse and the compact, upcoming Verano, and the 2012 Regal gets even better with the addition of the GS model.
The Regal's essentially our version of GM's global mid-sizer, sold in Europe as an Opel Insignia. It's a dynamic shape, with an optical hook stamped into its side flanks and a petite interpretation of Buick's waterfall grille applied to the nose to let you know it's still a domestic sedan. The interior's modern GM, not old GM, too, with a big shield of controls and a trio of finishes that dress up a soberly styled cockpit.
Later this year, Buick will add an eAssist model to the Regal lineup. With some mild-hybrid technology, this Regal will top out at 36 mpg highway-not astonishing given the Hyundai Sonata's standard-issue 35-mpg rating, but in the zone with the Lincoln MKZ hybrid.
The 2012 Buick Regal is one sleekly sculpted sedan, with an international look that plays just as well on this continent as it does over in Europe, where it's sold as an Opel.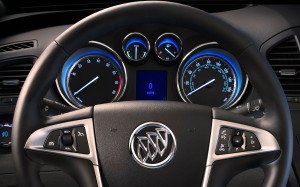 Between the details stamped into its door panels and the Buick waterfall grille pouring over its front end, we think the Regal may be the best-looking family sedan GM builds. The Nike-like swoosh down its flanks gives it great visual drama. The rear quarters pick up some influences from cars like the Infiniti G37, what with the stubby decklid and big 18-inch wheels. The dynamic shape isn't related at all to Buick's outgoing cars, but connects well with the bigger LaCrosse and the upcoming Verano, giving the lineup a real sense of family style that's visually distinctive, and a knockout.
The 2012 Buick Regal's dramatic, enthusiastic styling resets the "wow" factor for premium family sedans.The Regal's cabin is well-executed, too. The low instrument panel is highlighted by crisp LED-lit gauges, and the shield-shaped center stack of controls are framed by high-quality trim.
With its new touchscreen navigation option, the 2012 Buick Regal fixes the only big bug in its features list.Every Regal includes standard power features; air conditioning; an AM/FM/XM audio system with a flash drive for music on the go; a USB port; Bluetooth; leather front seats and steering wheel; heated front seats; and on the way, Buick IntelliLink, which connects smartphones to the car's systems and allows drivers to use apps like Pandora on the go.
Turbo Regals include this equipment, and offer the adjustable Interactive Drive Control System as an option, along with 19-inch wheels. On top of this, the Regal GS has standard IDCS and its own 19-inch wheels; 20-inch wheels and summer tires are an option, as is a sunroof.
All told, a Regal GS can push the sedan's base price from the $27,000 range up to nearly $40,000. That's in line with competition like the Acura TSX, Volvo S60 and Lincoln MKZ, but a noticeable jump from less luxurious family four-doors.
By Andon Guillory
Austin Times Staff
Posted by
admin
on Sep 5th, 2011 and filed under
AutoZone
,
Reviews
. You can follow any responses to this entry through the
RSS 2.0
. You can leave a response by filling following comment form or trackback to this entry from your site