2016 Ford Explorer
The 2016 Ford Explorer has received for this year a significant refresh, including smoother bodywork, an improved feature set, quieter interiors, and a stronger, more widely available 2.3-liter EcoBoost four-cylinder engine that joined the lineup.
Over the nearly 25 years the Explorer has been sold (2016 marks that anniversary), it's gradually moved on, up and beyond its practical roots. It once was a rather basic, family-oriented rugged wagon; in its current form, it's exchanged its trail-rated suspension for something a little more manageable for daily use. As a result, it feels more sophisticated and, in some of its equipment levels, feels like it could have a luxury badge.
In this year's Explorer, Ford has carried over the side sheet metal, but has changed just about everything else. With new front and rear styling, the Explorer has a more 'finished' and finely detailed look than ever before. It appears that there's been an effort to visually lift the front end, with a higher, more defined mesh grille, while a chunky LED lighting arrays provide accents and the headlights have their own small radiator grilles. In back there's a new sculpted spoiler and integrated exhaust tips, while the rear pillars are reshaped. Inside it does its best impression of a Taurus sedan in look and feel, albeit a little more upright.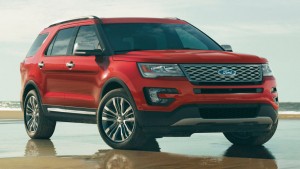 For power, the Explorer is now like the F-150 pickup, in that it relies on turbocharged power for the majority of its sales. The 2.0-liter EcoBoost four-cylinder engine has been replaced for 2016—by the new 2.3-liter EcoBoost, making 280 horsepower and 310 pound-feet of torque. It's available on base, XLT, and Limited models for just $995 extra and will allow pairing with all-wheel drive for the first time. It's gutsy and sounds better in the Explorer than it does in, say, the Mustang—and we prefer its power delivery to the cammy feel of the standard 290-hp, 3.5-liter V-6. Both are combined with a six-speed automatic, with a choice between front-wheel and all-wheel drive, but the turbo four simply matches up better with the engaging driving feel of the Explorer, where the V-6 is duller in its responses and output. Explorer Sport and Platinum models get the 3.5-liter EcoBoost twin-turbo V-6, making 365 hp and 350 lb-ft, and it's a beast, effectively making this the closest thing to an Explorer SHO as we're likely to see. Ford has retuned the Explorer's chassis for 2016, and there's more variance between the trim levels, but the hallmark is still an exuberant setup that combines quick electric power steering with relatively firm damping. Performance is buttoned-down, almost to sport-wagon standards, with predictable, benign handling and available all-wheel drive. There's nothing from the likes of Nissan, Toyota, Chevy or Honda that comes remotely close to the Explorer's road manners; for that, you'd have to turn to its arch-rival Grand Cherokee.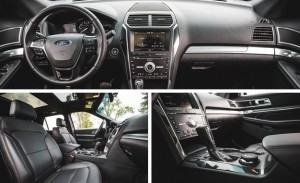 On the flip side, the carlike underpinnings mean that the Explorer can't quite hit the trails with the likes of the Grand Cherokee. But that doesn't preclude it from getting dirty now and then. A Terrain Management systemcontrols stability and other systems to limit wheelspin while maintaining a 5,000-pound towing capacity. It's definitely Explorer Lite compared to the distant past, but it's still quite capable, in the wider view.
The Explorer has one of the most spacious interiors on the market, though it's a stretch to pitch it against large seven- and eight-seat crossovers. Up to seven passengers can fit, and five adults will be fine in the front two rows, though the middle-row bench tilts down at its leading edge, and doesn't offer much in the way of leg support. Getting into the
third row is a little tougher than it is for the Ford Flex, as the Explorer sits taller. Every inch of this interior seems to be designed with family use in mind, and a power tailgate and power-folding seats are there to make it more convenient. The current Explorer is one of the safer vehicles Ford builds, though its scores in the latest small front overlap test haven't been that good. It offers advanced features such as inflatable rear seatbelts, adaptive cruise control and collision warning with brake support, a lane-keeping system, blind-spot monitors, and a new 180-degree front-end camera.
For 2016, the Explorer will be offered in base, XLT, Limited, Sport, and new Platinum trim levels. Base Explorer models come with the 3.5-liter V-6 engine and six-speed automatic, along LED headlamps and taillamps, 18-inch alloy wheels, and a rearview camera system with washer. XLT models add heavy-duty brake calipers, fog lamps, LED accent lighting, reverse sensors, and 18-inch alloy wheels, while the Limited gets a heated steering wheel, heated-and-cooled front seats, perforated leather upholstery, the front 180-degree camera system, a hands-free power tailgate, 12-speaker Sony audio, 20-inch painted alloys, and satin-chrome trim with rosewood appliques, among other upgrades.
Sport and Platinum models are only offered with four-wheel drive, while the other models can be had with front-wheel drive as well. Explorer Sport models get the twin-turbo EcoBoost V-6, plus a sport suspension, trailer-tow package, dual exhaust tips, perforated-leather seats with red accent stitching, 12-speaker Sony audio, and carbon fiber trim inserts.
Platinum models get the twin-turbo V-6 and all-wheel drive standard, along with special leather upholstery and a heated wood steering wheel, as well as a premium Sony sound system, a dual-panel moonroof, super-soft Nirvana leather seats, a 10-inch gauge cluster, and smart-charging USB ports.
Simply put, for almost everything that a family can throw at the Ford Explorer, it does it better than before, and it does what the wide majority of us want to do in a crossover. It makes plenty of room for lots of people, or lots of stuff, and it does it much more efficiently than it ever did in the past. It holds on to those mud-running bona fides too—even if they probably were only ever weekend ambitions for most of their suburban owners.
Posted by
admin
on Feb 16th, 2016 and filed under
AutoZone
,
Reviews
. You can follow any responses to this entry through the
RSS 2.0
. You can leave a response by filling following comment form or trackback to this entry from your site