My Education primed for "Sunrise" tour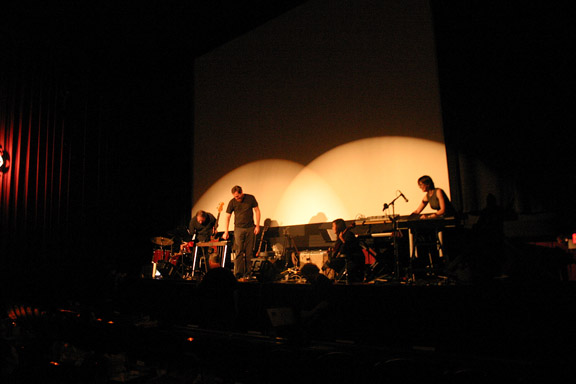 With the release of and upcoming tour for their new Album "Sunrise: A Song of Two Humans," I met with My Education to get a history lesson on the evolution of the band that makes it what it is today.
If you are familiar with today's sound of My Education - - entirely instrumental, characterized as "cinematic, mildly psychedelic" and compared to the likes of  Mogwai or Explosions in the Sky-the origins of the band couldn't be farther from where it is today.
Starting in 1999, Guitarist, Brian Purington and his buddies from San Angelo formed a rock band with vocals.  In 2001, the original group relocated to Austin.  With the geographical move also began a move away from a "more guitar oriented sound . . . we began to incorporate 'more stuff' into it" says, Purington.  When it comes to albums, remixes, a sound track or adding strings and a keyboard, "each one is different," says Guitarist, Chris Hackst.
Today, My Education has now evolved into a different animal.  In fact, with the exception of Purington, and the name of the band, not much is left from the original crew. In addition to guitarists Chris Hackst and Brian Purington, the group's most current concoction of talented musicians consists of bassist Scott Telles, violist James Alexander, drummer Chris Stelly, and keyboardist/cellist Henna Chou.
In the past ten years, My Education has produced five full-length albums, a 12" vinyl collaboration with like-minded musicians, and several singles and compilation appearances.  Scott Telles' past experience scoring "Metropolis," with band ST37, along with My Education's theatrical sound, led the band to talks with the Alamo Drafthouse to create and later, perform a live score to a film of their choosing.  When asked how they chose "Sunrise", Purington said, "All the other good silent movies were taken."  The band spent most of 2009 in the studio working on the score to "Sunrise."
"While we have a lot of fun recording, we are here to play . . . we take a long time to make an album, because we like to craft it with considerable thought and debate," says Hackst.  This is evident at My Education's shows, which have cultivated a cult-like following.   Even when playing the score to a film, no two shows are alike.  Each member has a paper with screen shot of certain parts of the film to use as post markers, but no two shows are alike.  "We adapt to different situations, each performance takes a different shape," James Alexander said.
My Education will hit the road in support of their new record. If you plan to be traveling out west, or have friends in the area, check them out!
Sunrise tour 2010:
June 4 - The Doublewide - Dallas, TX - w/ Shapes Make Stars and the Angelus.
June 5 - The Conservatory - Oklahoma City, OK - w/ Coney Island, Deerpeople & Between the Devil.
June 7 - The Mayan Theatre - Denver, CO .
June 8 - Tower Theatre - Salt Lake City, UT.
June 9 - Kilby Court - Salt Lake City,UT w/ No Eye Contact (Nohow On), Theta Naught & Jessica Bassett.
June 11 - Sunset Tavern - Seattle,WA w/ El Ten Eleven & Joy Wants Eternity.
June 12 - Portland, OR tba.
June 13 - The Hemlock Tavern - San Francisco,CA w/ Fake your Own Death.
June 14 - Santa Cruz,CA .
June 15 - The Bootleg Theatre - Los Angeles, CA.
June 17 - The Soda Bar - San Diego,CA w/The Radar Bros.
June 18 - Mia's Lounge - Flagstaff, AZ
After touring this summer, My Education will return to the studio to work on another album of more song based material.  "Sunrise" CD is now officially available to purchase as well via iTunes/Amazon MP3.
By Katie Warner
Posted by
admin
on Jun 8th, 2010 and filed under
Arts & Entertainment
,
Other News
. You can follow any responses to this entry through the
RSS 2.0
. You can leave a response by filling following comment form or trackback to this entry from your site